'Tottenham Hotspur, never miss an opportunity to miss an opportunity' – Twitter Explodes As Tottenham Played A 0-0 Draw vs Sunderland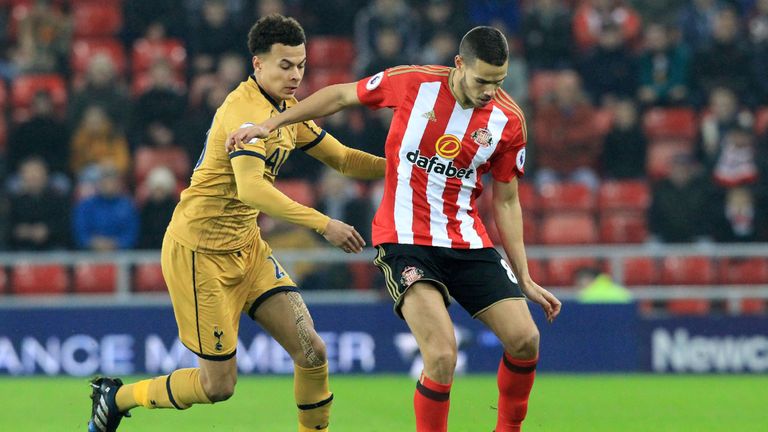 Tottenham missed the chance of closing the gap to Chelsea after they were held to a 0-0 draw by Sunderland. The away side dominated possession but barely tested the Sunderland goalkeeper and now remain nine points behind leaders Chelsea.
Spurs have been hitting the back of the net on a regular basis and had scored 16 times in their last five league games but Sunderland held fort really well and nullified any attacking inputs from Mauricio Pochettino's men.
The best chance of the game fell late on to Victor Wanyama but he headed high. There still was some good news for the London club as the loss for Arsenal in their match meant Spurs climbed up to second in the Premier League.
The draw helped Sunderland get off the bottom of the Premier League until Hull City play their next game but this does seem to be a huge opportunity lost for the Lilywhites. Spurs did manage 72% possession in the game but had just 3 shots on target.
We look back at the game and share the best Twitter reactions.
Tottenham Hotspur, never miss an opportunity to miss an opportunity

— Chicago Spurs (@chicagospurs) January 31, 2017
Tottenham's subs tonight had a combined total of 16 Premier League goals, compared to Liverpool (114), Chelsea (98) & Arsenal (77). #THFC

— Jake Sanders (@JakeSanders92) January 31, 2017
Chelsea draw
Liverpool draw
Tottenham draw

….Arsenal lost pic.twitter.com/LevfSZHPlW

— Football Daily (@footballdailyuk) January 31, 2017
Tottenham are second in the Premier League after 23 games. Remain calm. pic.twitter.com/hD3GhVIVA5

— Spurs Stat Man (@SpursStatMan) January 31, 2017
Poch: Our fellow title contenders are dropping points, we should take advantage.

Inner Poch: You manage Tottenham. Bottle it. pic.twitter.com/sk2ubo5nmv

— Daily Hotspur (@Daily_Hotspur) January 31, 2017
Arsenal's title hopes dented by a former Tottenham player #AFC pic.twitter.com/FkYsTUNrN4

— Eurosport UK (@Eurosport_UK) January 31, 2017
Tottenham down to 10 men against Sunderland pic.twitter.com/yFlQjoi453

— NUFC Banter (@NUFC_Banter) January 31, 2017
@FootySuperTips if Tottenham don't score / win I'll take up knitting instead of betting

— Andrew Higson (@higgytwit) January 31, 2017
Liverpool, Chelsea & Spurs all drop two points.

Arsenal: "Hold my beer."

*Drops three* pic.twitter.com/5QqOQr1oRy

— TheFootballCommunity (@Footy_Community) January 31, 2017
Points dropped tonight:

Liverpool (2)
Chelsea (2)
Spurs (2)
Arsenal (3)

Jose and Pep right now.  pic.twitter.com/USQN1WKjrZ

— Ademola Adetona (@DEMOLAEXPOZE) January 31, 2017