Tottenham Defender Opens Up About His Recent Injury Scar, Reveals He Couldn't Even Walk For Three Days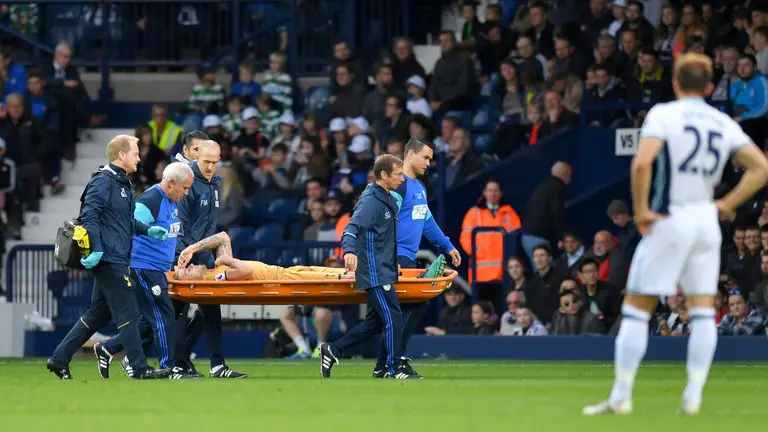 Tottenham might be pleased at having Toby Alderweireld back in the side but the Belgian defender was a little worried after picking up an injury against West Bromwich Albion a couple of months ago.
The former Atletico Madrid defender was involved in a bit of a clash with his teammate Jan Vertonghen and had to be carried off the pitch. The loss of Alderweireld did affect the Champions League performance for the London side but it could have been a lot worse according to the Belgian star.
The 27-year-old opened up about the incident and also shared his fears that he could have been out of action a lot longer.
Speaking to Belgium magazine Humo, Alderweireld said:
"I'll explain it briefly. In the knee you've got a nerve that extends all the way down to your feet.

"Through contact with Jan (Vertonghen) it got trapped. It felt like I was paralysed. I could not even move my toes."
Alderweireld also added that he couldn't even walk properly after a few days of the injury and that was when he started to worry about playing for the side.
He continued:
"I still couldn't walk after three days, and that's when I began to get worried.

"If you have two weeks of no feeling in your leg, you start to wonder 'Will it ever return?'"
Fortunately for Tottenham and Alderweireld, the Belgian made a complete recovery and has returned to make Spurs one of the toughest teams to play against. They seem to have gotten their mojo back at the back and have kept a number of clean sheets in their recent games.
The club might not be in the running for the Champions League anymore, but they still are in the FA Cup and also feature in the Europa League where they face Belgian side, Gent.
Spurs are trailing Chelsea in the Premier League by nine points and seem to be their biggest rivals for the title but they first have to navigate a tricky encounter against Liverpool. The Reds would be looking for their first win in 2017 in the Premier League and they do have a decent record against the London side in recent seasons.
The teams drew 1-1 in the earlier encounter this season and both sides know that a draw will be useless for their respective targets. Tottenham knows that a win is a must if they have any hopes of catching up to Chelsea and that can be ensured should they keep a clean sheet against the Reds.
https://www.youtube.com/watch?v=JSlVFH6isJE