Tottenham Are Believed To Be keeping Tabs On Martial's Situation At Manchester United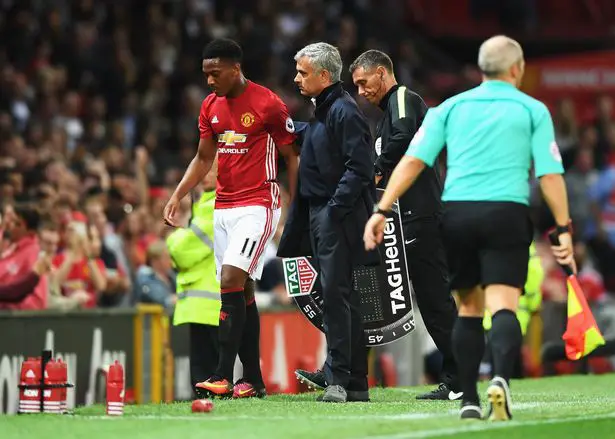 Tottenham Hotspur are believed to be keeping tabs on Martial's situation at Manchester United, according to Mirror.
Martial has not been a regular starter for Mourinho's team and this has given Tottenham a hope to try and pursue the French striker. He did receive the manager's backing after a scintillating display in their 2-0 home win over Watford, but that doesn't seem like an obstacle in Tottenham's plans.
Mourinho spoke to MUTV after the Watford game,
"I'm happy with Anthony's last two weeks of work. The way he faced the work, hard work, with more concentration and more determination. That's why I gave him this gift, to start this game. Normally, after Leicester, I'd start with the same players and keep Marcus [Rashford] in the team. I just felt Marcus doesn't need a boost because he's playing all the time. Anthony was maybe feeling a little bit down and needed a gift. He answered in the best way."
Martial's performance saw him receive United's Man-of-the-Match award as he collected 72 percent of the votes on Twitter, ahead of other nominees Juan Mata and Henrikh Mkhitaryan.
In the post-match press conference, Mourinho discussed the situation regarding the youngster.
"The Anthony Martial I want is the Martial of the last two weeks of training. If he trains the way he did in the past two weeks, he performs naturally the way he did today – or better."

"I think he is still missing a bit of his confidence. I kept shouting at him to attack the defender and go to the one-on-one as he needs that confidence but he's working very well. Anthony needs to feel that I am looking at him and that I know what he did in training and the effort he put in. So I gave him his chance and he played well. He had a good game for me."
Jose's words suggest he totally believes in the striker and is ready to help him improve in his career. However, this will not stop clubs like Tottenham from chasing the Frenchman.
Martial has scored 24 goals for United and is widely expected by experts to improve on that tally. He is all set to score his 25th goal for the club which would cost the Old Trafford outfit an amount of €10 million as per the transfer agreement with AS Monaco.
Even though the player hasn't matched the levels of his brilliant debut campaign, he has still been effective when coming off from the bench.
It does look unlikely that Martial may actually leave the Red Devils, given the support he is receiving from his manager and also from his team-mates.
Nevertheless, chasing a player of his quality will do no harm at all for the London-based club.