Fans Can Breathe A Sigh Of Relief As Daniel Levy Provides Update On Pochettino's Future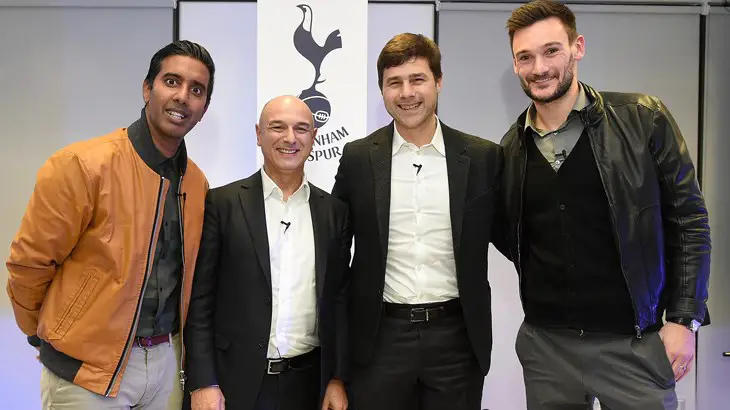 It is good news, though we already knew this. To be hearing it from the club's chairman is more assuring, isn't it? The latest on Pochettino's future is that the Argentine is going nowhere and that is according to Daniel Levy, Tottenham Chairman.
Levy on Thursday confirmed that Pochettino will stay at Tottenham and not leave the club anytime soon. Pochettino has been phenomenal ever since he took over as Spurs boss and the rapid rise is there to be seen. The club is moving forward and there seems to be some great understanding between Levy and Pochettino. It is not without a plan that the club have decided to move to a new stadium.
The plan is to probably to establish Tottenham as a European superpower and that is achievable with Pochettino at the helm, and it is good to see that Levy knows it as well.
Daniel Levy was quoted by France24.com as saying;
"I'm sure he's not going anywhere."

"Is he going somewhere?" Levy said, pointing out Pochettino who happened to be sitting in the front row at a press conference called to announce an improved shirt sponsorship deal with Hong Kong-based life insurance giant AIA.

"Look he's here. Sitting right with us here. I'm sure he's not going anywhere. He loves us."
Pochettino last week had guaranteed that he would be at the club next season. Pochettino was quoted by Daily Mail as saying;
"There is no buyout clause in my contract. I will stay here next season. There are many rumours, but I am committed with the club, no reason to leave the club. I will be here for pre-season on July 3. Don't worry."

Pochettino added: "All the players that we want to stay next season will stay. The players that maybe have offers we will decide to sell. But that is our decision because the players are under contract with the club. It will always be the club's decision."
With Pochettino set to remain at the club, surely the team is in safe hands. The Argentine seems to be clear with his ideas and clearly, Levy is backing the guy. However, Pochettino needs to be careful with his transfer dealings as last summer's signings have failed to shine.
Nevertheless, the former Southampton coach is the right man to lead the club forward and the news is a really glad one!