Tottenham Handed Major Transfer Boost As Key Target Could Be Available In January For Cut Price £15m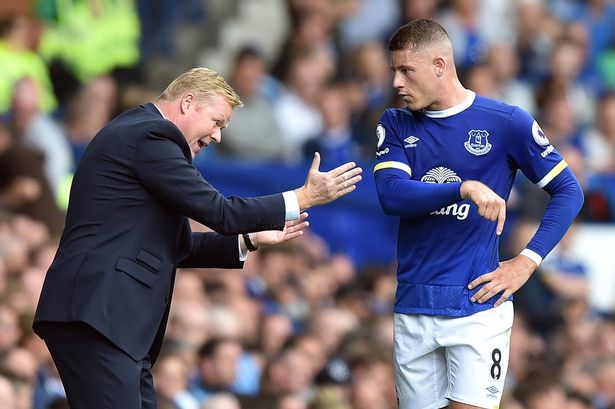 Ross Barkley came very close to leaving Everton in the summer transfer window but decided to stay at Goodison Park. Now, latest reports from the Liverpool Echo indicate that the Toffees could reduce their asking price to around £15million to £20million during the winter transfer window.
The 23-year-old midfielder has come through the ranks at Everton and is considered their best homegrown prospect since Wayne Rooney emerged on the scenes. He has scored 21 goals in 150 Premier League games for Everton although critics accuse that he has not fulfilled his potential.
The England international midfielder has seen his stardom fade away at the Goodison Park and under Ronald Koeman, he lost his starting place. This resulted in him losing his place for England as well, prompting the midfielder to consider his future at the club.
After having rejected the advances of the club to extend his contract, Barkley had set his sights on joining Mauricio Pochettino at the White Hart Lane. Although the Toffees have been preparing for his exit for quite some time, they were reluctant to let him join the Lilywhites for anything less than £50million.
Barkley was wanted by Chelsea too and the Blues thought they landed him on the deadline day, although the player vetoed the move as he had set his mind on joining Spurs.
The player is currently recovering from his hamstring injury – another reason why Spurs were reluctant to sign him in the summer. Latest reports indicate that Everton won't be able to charge more for the transfer and would be happy with a price of £15-£20 million.
For someone of his potential, Barkley at £15million will be a steal. Daniel Levy balked at Everton's valuations of £50million and though they climbed down to £35million on the deadline day, it was still high for someone who was into the final year of his contract.
January is the last chance for Everton to offload Barkley for anything of note, which means Spurs are set to land one of their prime targets on the cheap.
Do you think Ross Barkley would be a steal at a price of £15million?