Tottenham created history on the night it mattered the most. Sharing the top spot in Group H alongside Real Madrid prior to the game, a lot was said and done about the fixture. The obvious talk of the town as Harry Kane who had missed Tottenham's previous two fixtures and incidentally, Tottenham lost both of them; a 3-2 defeat against West Ham in the Carabao Cup and a 1-0 defeat at hands of Manchester United in the Premier League.
Besides, with the fixture being scheduled at Wembley, many expected it to be an easy win for Madrid given that we have struggled to set a footing at the grand venue. The tables, however, were turned as we went on to defy all odds and to become the first English team in the 21st century to beat Real Madrid in a Champions League group stage game.
Tottenham have been struggling with injuries a lot this season but as they say; one man's loss is another man's gain, Winks has reaped a lot because of this. The youngster has become a regular face for Pochettino and in what was one of the biggest nights in his footballing career, he didn't disappoint a bit. The likes of Dele Alli, Christian Eriksen and Kieran Trippier stole the show with an amazing display and at the same time, Winks did his job like a silent knight.
Up against the likes of Luka Modric and Toni Kroos, Winks was able to neutralise the threat and grew strong with every passing minute of the game. What a night for the youngster and what a performance. Pochettino is set to face a major headache as soon as both Wanyama and Dembele get fit for regular first-team action.
Tottenham fans, on their part, were left impressed with Winks' performance and this is how they reacted:
Reminder The English media were angry Harry Winks got in the last England squad over Tom Cleverly

— Decky (@mchdecky) November 1, 2017
Our 3 best players tonight
Harry Winks
Dele Alli
Davinson Sanchez

Are all 21 ⚽️

— TAS⚪️ (@coys100) November 2, 2017
With good training Modric could be the next Harry Winks

— Tim (@CookPassTim) November 1, 2017
The beauty of Harry Winks is not just where and when he passes a football, but how. He's got a foot like a set of golf clubs.

— Kristan Heneage (@KHeneage) November 1, 2017
You'd never guess @HarryWinks was a boyhood Spurs fan. pic.twitter.com/QPhY7JUnnU

— James Dickens (@JamesYahooSport) November 1, 2017
Harry Winks technically outwitted and outplayed Luka Modric tonight, a Spurs boy playing far beyond his years, immensely proud! #COYS#THFC pic.twitter.com/qFOzPT5Kku

— Ricky Sacks (@RickSpur) November 1, 2017
Another Spurs legend in the making 😉 #COYS

— Great British Lawns (@LawnsGreat) November 2, 2017
This lad was handed a chance,club n country. Fuckin smashed it . A gem

— Hayley Blake (@HayleyHotspur10) November 2, 2017
HARRY WINKS I AM IN LOVE pic.twitter.com/4okY9vBCQ1

— JAKC (@thesIvmpgod) November 1, 2017
English Xavi

— (@thfcdele) November 1, 2017
Fuck no bro Xavi was the Spanish Winks

— JAKC (@thesIvmpgod) November 1, 2017
We have a very special talent in young winks. This guy will dominate English football and will be our next jewel.

— brian cohen (@thfcbrian) November 2, 2017
@HarryWinks is the definition of a spurs fan #40winks

— Jack Blackwell (@jackblackwell86) November 1, 2017
When Harry Winks empties his pockets…

Phone
Keys
Wallet
⚪️ Luka Modric pic.twitter.com/XrRQGCnSAT

— Footy Jokes (@Footy_Jokes) November 2, 2017
Alli and kane get the plaudits but my man harry winks at 21 ran the show against Madrid again. Playing youth pays off. pic.twitter.com/OIbuj3WNqF

— CJ (@Cjnovo992) November 1, 2017
Why Tottenham need to be active in the winter transfer window even if they can't sell players
Why Tottenham have to buy in January irrespective of possible exits
Tottenham have a big January window coming up. Spurs need to get their house in order after a tough start to the season, and we seem to be out of the race for the Premier League already.
We have only one point from our opening two Champions League games and are out of the Carabao Cup too.
The Times (h/t Sun) claims that Eric Dier, Victor Wanyama, Christian Eriksen, Danny Rose and Serge Aurier could be sold in January. Tottenham needed to get rid of these unwanted players in the summer but were unable to complete the deals.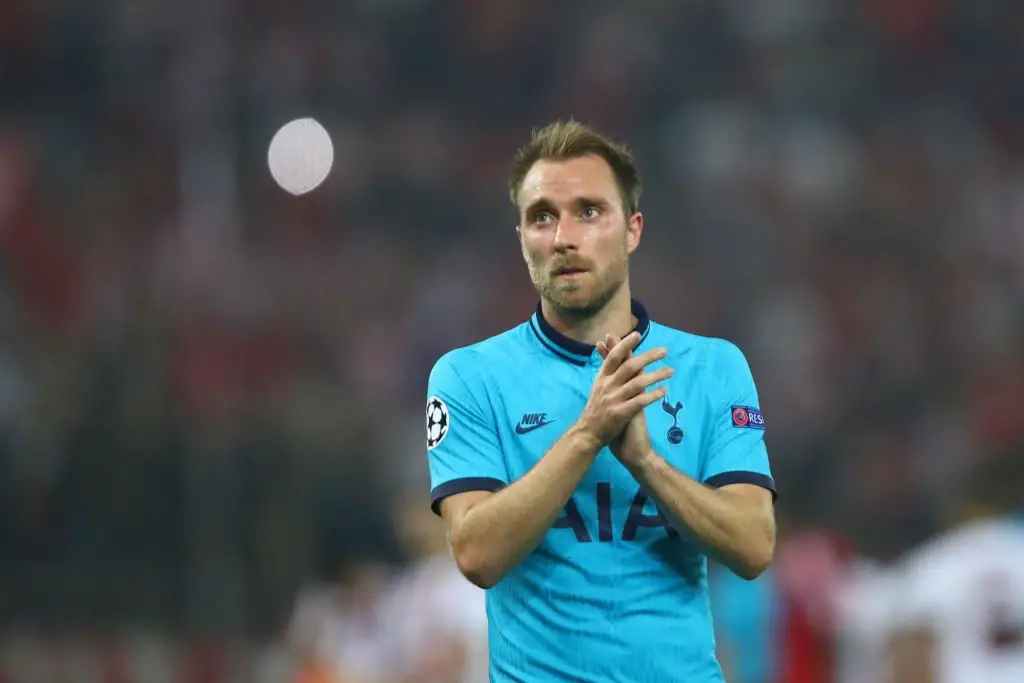 We did sign a few players, but only Tanguy Ndombele has been a regular. Giovani Lo Celso and Ryan Sessegnon have been blighted with injuries, with no starts between them.
Spurs have to spend in January
Eriksen, Dier and even Rose should get us some decent money in January, however, Tottenham cannot decide to act after getting rid of these players.
We need more fresh faces to fix things and there is a chance that the players could try to push for a summer move.
Eriksen is a free agent once the season ends and so are Jan Vertonghen and Toby Alderweireld. The trio can demand higher wages due to the lack of a transfer fee, which would be a blow to our finances.
We have to keep a check on our finances as the new stadium is now open, but Daniel Levy has to loosen the purse strings. Bruno Fernandes is being linked with a January move (h/t Sun), and we could do with some cover for the full-backs too.
We could also do with another centre-back joining the club after Vertonghen and Alderweireld's struggles this season. There is a real fear of us missing out on the top four if things don't click. Leicester City and West Ham look decent while Chelsea and Arsenal seem to be winning more than losing.
Having extra players would be a strain on the wage bill, and hopefully, we sell some of the deadwood in January.
More Tottenham News
Even if we can't, Spurs have to spend in January to save a season that had so much potential.