Tottenham announce deal with Musco Lighting for their expensive new stadium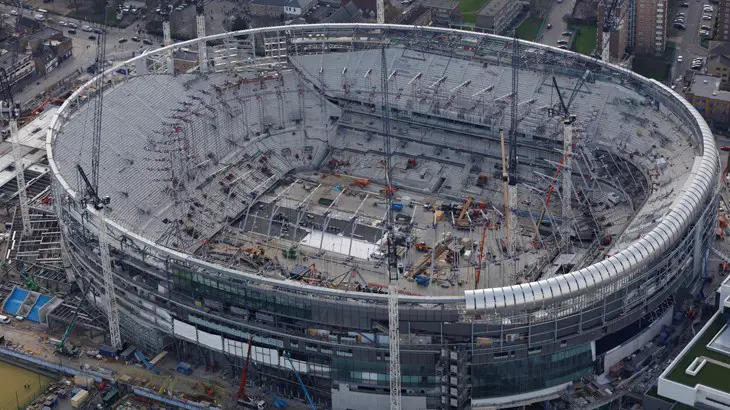 Tottenham Hotspur have announced a deal with Musco Lighting to light up our new stadium. Our club announced on Tuesday that Musco Lighting has been selected to provide all solutions related to lighting the pitch at the new state-of-the-art stadium currently being built.
The official website says that the expensive new stadium will boast of 324 floodlights, escalated on the underside of the stadium's roof in clusters of six. The advanced LED system will require just 450kW of power, which will consume 50 percent less energy compared to a conventional floodlighting system, our club confirmed.
The report says that the Musco Lighting meets all UEFA and NFL requirements. They also have the ability to produce incredible light shows that can be used for a variety of major events.
The new stadium is slated to be ready before the start of the 2018/19 season and will host NFL matches, music concerts and a range of other events. The workers who are working day and night have an added pressure to finish the construction before the due date as the new stadium will witness American football on October 14 when the Seattle Seahawks play the Oakland Raiders in the NFL.
Matthew Collecott, Director of Operations, Tottenham Hotspur said:
"Musco has specialised in the design and manufacture of stadium lighting solutions for over 40 years. Their experience and ability to provide pioneering solutions for arenas and stadiums around the world gives us the utmost confidence in their capabilities to deliver the best solution for the Club's new stadium."
Jeff Rogers, Vice President of Sales, Musco Lighting said:
"We are excited to partner with Tottenham Hotspur and provide an LED lighting system that will meet this iconic Club's unique needs at its new stadium. Our system will offer an enhanced entertainment experience for the fans, with superior light quality and visibility, and it will also help the Club in its efforts to reduce its environmental footprint."
Despite the construction of the new stadium being on track, it remains to be seen whether Spurs will ask the Premier League for permission to play their first few matches of next season away from home.
Now, as the stadium is finally beginning to take shape, let's hope the colossal arena is ready for the start of the new season.