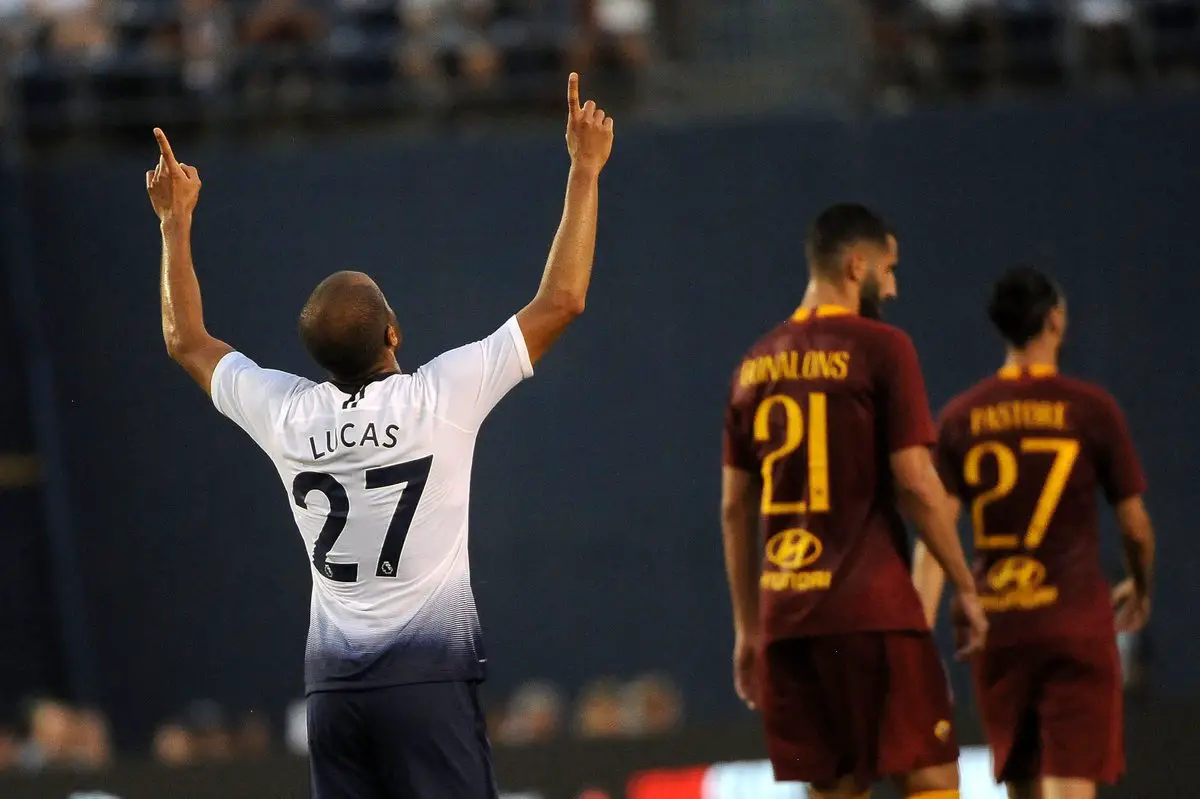 Tottenham began their tour of the US with a resounding 4-1 win over AS Roma in the International Champions Cup.
Both sides were missing a number of key players due to injuries and extended breaks after the World Cup and it was the Serie A side that started the brightest, as Patrik Schick scored in the third-minute.
We were having a bit of a crisis as Ben Davies was played in the heart of the defence and Luke Amos was playing alongside Moussa Sissoko in midfield.
And it was Amos who had a huge role in our first goal as his shot was blocked. However, Fernando Llorente headed home.
The Spaniard made it two as Lucas Moura's header was saved by Antonio Mirante. Lucas scored a brace too as he first headed in from Serge Aurier and then scored from outside the box to make it 4-1 at half-time.
There were a number of chances for Edin Dzeko to cut the deficit but the Roma man just could not get the better of Paulo Gazzaniga and the match ended 4-1 in our favour.
It was great to see the Spurs team still doing well without a number of our key players and our fans certainly seemed pleased with the win, especially with the braces scored by Lucas and Llorente.
Here is a selection of tweets after the victory over the Italians.
It's so good to have you back Spurs. Can't smile without you. #COYS

— Lilywhite Spurs (@Lilywhite_Spurs) July 26, 2018
worth the all nighter , time for beakfast

— MV (@RunDavinsonRun) July 26, 2018
What a start! Let's beat Barça lads!

— KANEY (@hags0106) July 26, 2018
Well done lads! Lucas & Llorente was fantastic – The whole team as well

— Pratadina (@RyanMasxn8) July 26, 2018
Play Lucas more. Thank you. #COYS

— Christopher (@ChrisWrighteous) July 26, 2018
Hopefully Llorente adding value to his transfer fee!!

— Robert McAlister (@McBobbyBruce) July 26, 2018
Do it again in LA vs Barcelona then I forgive you for signing no one.

— Tian-Shu Qin (@COYS_Qin) July 26, 2018
Play to @LlorenteFer19's strength and he'll deliver! ‍♂

— Joseph Ang (@JosephbyNature) July 26, 2018
— Rick (@RickCerq) July 26, 2018
Aurier was solid. Lucas definitely had to start more

— Suryo (@jippooo) July 26, 2018
Might get 50 million for llorente now

— Donal Rodgers (@donalrodgers) July 26, 2018
lucas got 2? oh boy

— dan (@danceinastorms) July 26, 2018
Amosss

— aram (@aaramcp) July 26, 2018
Messi is the Lucas Moura with hair

— (@THFC_99) July 26, 2018
— Suryo (@jippooo) July 26, 2018
Read more: Thigh injury forces Tottenham defender out of contention for the start of the season