"I think they win" – Gary Neville outlines how Arsenal could have beaten Tottenham
Gary Neville claims Tottenham would have lost if Declan Rice had stayed fit for Arsenal
Speaking on The Gary Neville Podcast, Manchester United legend Gary Neville has claimed that Tottenham Hotspur would have lost the North London derby if Declan Rice had still been on the pitch for Arsenal.
In a fiercely contested North London derby, the footballing world was treated to a pulsating encounter that ended in a 2-2 draw. The clash had fans on the edge of their seats, with both Tottenham and Arsenal displaying moments of brilliance.
Neville's claim is straightforward yet audacious: If Declan Rice had remained fit and played the full 90 minutes for Arsenal, the match's outcome would have swung in their favour. Tottenham will feel hard done by his assertion.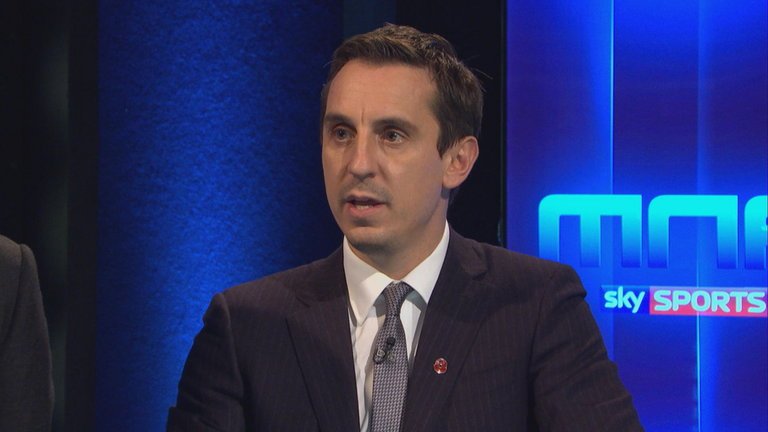 The match commenced with a surprisingly slow start from Tottenham, allowing Arsenal to seize control of the proceedings in the opening 30 minutes. A stroke of misfortune led to Tottenham conceding an own goal courtesy of Romero, putting Arsenal ahead.
However, the Lilywhites' response was swift, with the South Korean sensation, Heung-min Son, finding the back of the net shortly after to level the score. Son's goal restored parity on the scoreboard and injected a newfound vigour into the Tottenham side.
From that moment onwards, they began to dictate the flow of the game, asserting themselves as the superior team for the majority of the contest. The second half brought more drama, as Arsenal was awarded a penalty, neatly dispatched by the talented Bukayo Saka.
However, Tottenham fans had little time to lament as James Maddison capitalized on a Jorginho mistake, threading a sublime assist to Son, who calmly slotted the ball home to make it 2-2.
Gary Neville's assertion hinges on the importance of Declan Rice to the Arsenal midfield. Discussing Rice on his podcast
"And Rice is a monster in there, I think they win that game with him out there until the 90th minute. I think he's that type of player that just drives them forward, that those corners at the end he'll get something"
More Tottenham Hotspur News
Hindsight is a very easy thing in football and one can never say for sure that Rice would have won the game for Arsenal. Neville can say what he wants but Tottenham were the much superior team on the day, with or without the Arsenal star.