"Go wide" – Manchester United legend points out key Tottenham tactical flaw against Liverpool
Gary Neville points out a key tactical flaw made by Tottenham Hotspur against Liverpool
Speaking on his Sky Sports Premier League podcast on YouTube, Manchester United legend Gary Neville has pointed out a key tactical flaw that Ange Postecoglou made in the clash between Tottenham Hotspur and Liverpool last weekend.
In a game that will always be remembered for all the wrong reasons, Tottenham managed to overcome nine-man Liverpool and keep their unbeaten run intact in the Premier League whilst also ending the Reds'.
Tottenham emerged 2-1 winners on that night but all the game is remembered for is for some atrocious refereeing decisions and blunders. Even the most ardent Tottenham fan might now hold his hands up and agree that the referring in that game was below par.
Generally, things like tactical flaws are spoken about after the game only after a loss. However, in the context of this game, let's not forget that Tottenham despite being dominant for much of the game, struggled to break Liverpool and needed an own goal from Joel Matip in the dying seconds to win.
Funnily enough, Tottenham seemed to be playing better against a 10-man Liverpool than when they went down to 9. The Reds shut shop and sat deep for the last 20-25 minutes and Postecoglou's men seemed devoid of ideas.
Speaking about the situation, here is what Gary Neville had to say on what Postecoglou could have done differently
"The fullbacks, I would have said go to a more traditional system. Don't go in there looking to actually play. Go wide with your wingers and really stretch that midfield. So Liverpool have a five and they have a three, so the two in there in this case, Udogie and Porro, you stretch yourself wide so you've got two on each side. What you're doing then is stretching the pitch to its maximum. That's what we used to do. For me, they weren't working those positions hard enough"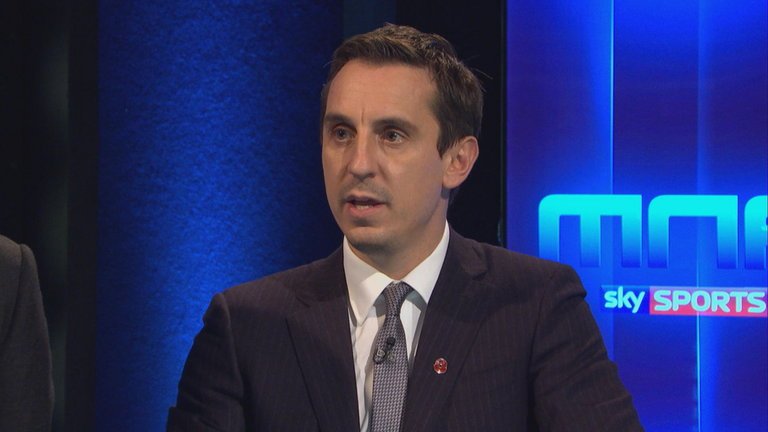 Neville is always known to polarize people with his opinions and his takes on the game but this time, what he says is very sensible. In fact, it is true that Tottenham failed to work the wide areas enough with their full-backs towards the end of the game.
Incidentally, though, the winning goal, which was an own goal from Matip actually came when Pedro Porro went wide to the byline and cut a ball across the face of the goal. As Neville says, Tottenham must have done it more often.
More Tottenham Hotspur
Ultimately, all is well that ends well and what remains on paper is the fact that Tottenham got three points. These are minute details in the game that one must remember though. Let's hope we can keep the momentum going forward.