Tottenham Ready To Offer A New Contract For Key Defender To Fend Off Interest From La Liga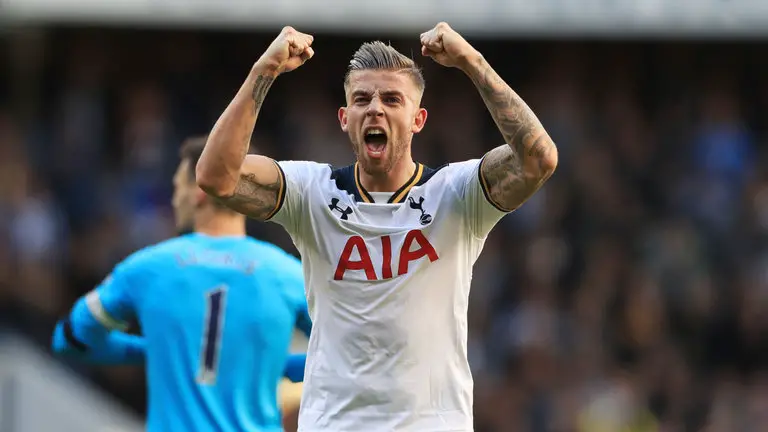 Tottenham are ready to tie down yet another player on a long-term contract in Toby Alderweireld – as per the Telegraph. Toby Alderweireld has been the star performers for Spurs since his £15 million move from Atletico Madrid in the summer of 2015. His current contract runs out in the summer of 2020, while there are rumours about a release clause which would allow clubs to sign him for just £25 million. A number of Spurs players have signed a new contract in the calendar year 2016. Harry Kane, Dele Alli, Jan Vertonghen, Danny Rose, and Kyle Walker are some of the players who have been committed to the incredible project taking place at Spurs.
As Toby Alderweireld is one of the top transfer targets for the clubs looking to exploit the low release clause, Spurs are keen to show a sign of commitment to the best players at the club by offering him a new deal, which would make him one of the top earners at the club. Alderweireld is nowhere near enough the wage packet he would receive at the likes of Chelsea, Manchester City, and Manchester United. These are clubs currently being around £ 120,000 per week or more even for the defenders. Alderweireld earns around half this figure, and Spurs are becoming increasingly concerned that the player's head will be turned as a result.
After missing the two months of the first half of the campaign due to a major injury, Alderweireld has returned in the best possible time. He was an instrumental figure in keeping the league's top scorer Diego Costa quiet in the 2-0 win over Chelsea. This victory has placed the club just seven points behind Chelsea in the table, thus reinvigorating their hopes of winning the title. At a time when Alderweireld was unavailable in the team, Spurs were extremely poor in all areas of the pitch. It is clear that the Belgian international has a huge influence on the squad even the Hugo Lloris is the captain.
Alderweireld has enjoyed a formidable partnership with Jan Vertonghen at the back. If Spurs managed to keep both players fit until the rest of the season, the team would have a great opportunity of not just finishing in the top four, but even challenging for the title.
An extremely strong personality at the back, Alderweireld has been able to keep Tottenham's defensive record. In the last couple of years, Spurs have been one of the best at keeping the opposition at bay. After the two goals conceded by Chelsea at White Hart Lane, Spurs have become the team with the best defensive record. They have conceded only 14 goals in the 20 league matches.