Arsene Wenger Praises Tottenham Supporters, As He Infuriates Arsenal Fans Even Further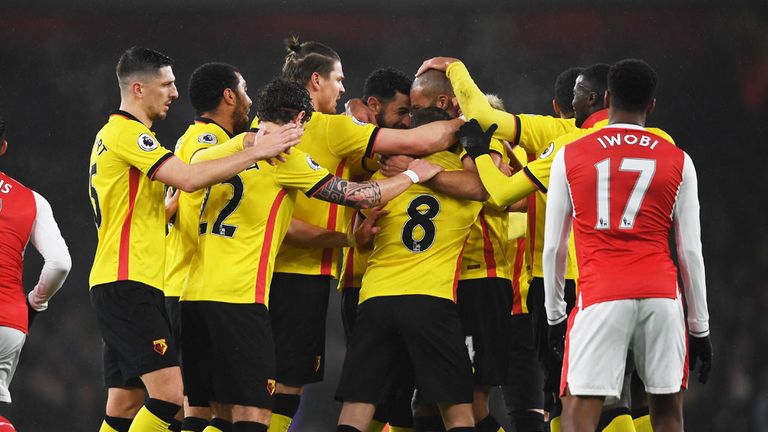 Arsenal fans have been infuriated by manager Arsene Wenger's comments on the support shown by the fans. Arsene Wenger recently stated that North London rivals Tottenham are an example of how a club should be backed even during the tough times. He says that fans get behind the team at all times, and it has helped them become title challengers without spending much money in the transfer market. Wenger's comments come at a time when his popularity is at an all-time low after a 3-1 defeat against Chelsea last weekend. This was the second consecutive defeat for Arsenal and it has left the team 12 points behind leaders Chelsea.
It looks like another campaign without a league title for the gunners, who last won the Premier League in the 2003-04 season. Prior to the game against Hull City, Wenger said:
"We are in a fight there, we absolutely have to be united or we have no chance to do it.

"You have Tottenham, everyone is in the fight and everyone is behind their team. We have to do exactly the same, even if we had two disappointing results."
The comments have certainly not been well received, as Arsenal supporters believe that they should be getting a lot more from the team in return. Arsenal charge some of the highest ticket prices for fans, and it is a major contributor to the club's match day revenue. However, little money has been reinvested back into the club. Even though the likes of Shkodran Mustafi, Alexis Sanchez, and Mesut Ozil have been signed for big money, it has not been enough to sustain a title challenge throughout the campaign.
Questions have been asked about Wenger's ability to lead the club to title success amidst a lot of competition. Back when Wenger was competing for the title on a regular basis, only Manchester United were the serious threat. Now, however, the club has to deal with competition that includes Chelsea, Manchester City, Tottenham, Manchester United, and Liverpool. It seems that Wenger is unable to cope with the intense pressure.
Just when you thought there's nothing left to go wrong, Wenger praises Spurs fans and blames Arsenal fans. #WengerOut

— Je suis #WengerOut (@OrikAFC) February 9, 2017
Is Wenger stupid! Saying arsenal fans need to be like spurs fans! #wengerout #idiot #coyg #getrid @Arsenal

— barney adams (@barneyadams) February 9, 2017
Wenger is trolling us. Wenger wants us to be like Spurs fans. Jeeez I'm done #WengerOut

— John Aggrey (@Superjohna07) February 9, 2017
The 62-year-old's contract runs out at the end of the campaign, and it is widely speculated that he may leave Arsenal at the end of the season. This would bring his long-time at Arsenal to an end. Wenger has been at the gunners for more than two decades after coming to the club in 1996. Since the 2003-04 season, the club has managed to win two FA Cup trophies. Fans have witnessed other clubs winning honours in bucket loads during this period. Manchester City were not even close to a top four finish when Arsenal last won the title, but they have since added two league titles to their name.
The game against Hull City is extremely important for Arsenal considering that they do not want to fall further behind the title challengers. Wenger refused to rule out winning the title from this position.