£40m Forward Could Move To England Claims French Football Expert Amidst Links With Tottenham And Liverpool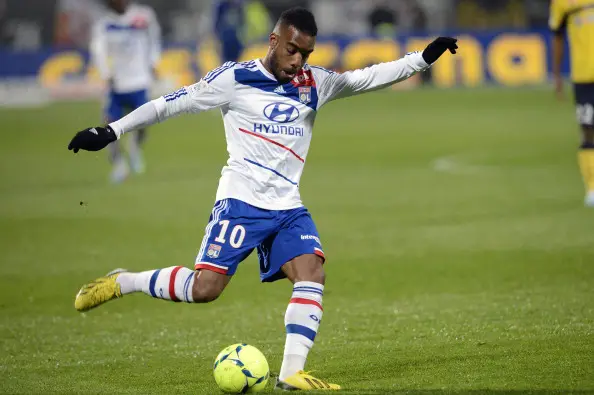 Tottenham have become one of the potential destinations for Lyon forward Alexandre Lacazette, who is widely expected to leave the club in the summer. There have been a lot of transfer rumours surrounding Lacazette for several years now. The 25-year-old has been one of the top centre forwards in the French football over the last few years. He has been linked with names like Liverpool, Manchester United, Arsenal and Tottenham. He came through the ranks at Lyon and made his professional debut for the club in 2009. Since then, he has been a regular feature of the club.
Yet, the club's continued failure to qualify for the Champions League in a consistent manner has led to Lacazette raising a lot of doubts about his future at the club. One of the reasons for the concern from the striker is the lack of profile that he is getting when it comes to the national team level. Since making his debut for France in 2013, Lacazette has only made 10 appearances. It is clear that he is not the first choice striker with the likes of Anthony Martial and Olivier Giroud ahead of him in the pecking order.
After having been linked with top Premier league clubs quite consistently in the last few years, it seems that the striker is ready to make the jump. Tottenham are one of the latest clubs linked with the forward. French football expert Julien Laurens said:
"I think he will go to England. Whether that is Liverpool, Arsenal or Tottenham – I don't know. You will have to pay around £40m or £50m."
One of the stumbling blocks towards a potential deal might be the expected price for the striker. Laurens claims that the club value the player in excess of £40 million. This could potentially place in out of reach for a number of clubs, as they would be concerned about spending this extravagant sum of money a player who is not proven in English football. Furthermore, Lacazette is already at the peak of his career at 25 years of age. Tottenham are the kind of club who wants to sign young players with a view of having them on-board at least for a decade. It was a major reason behind the signing Vincent Janssen in the summer.
One of the reasons for Tottenham coming into the market for a new striker is the poor performances of Vincent Janssen. The Dutchman is yet to score from open play this season, and he has certainly not served his objective of performing as a top backup to Harry Kane.