€5m Rated Bundesliga Star Discusses EPL Switch As Arsenal And Tottenham Consider Moves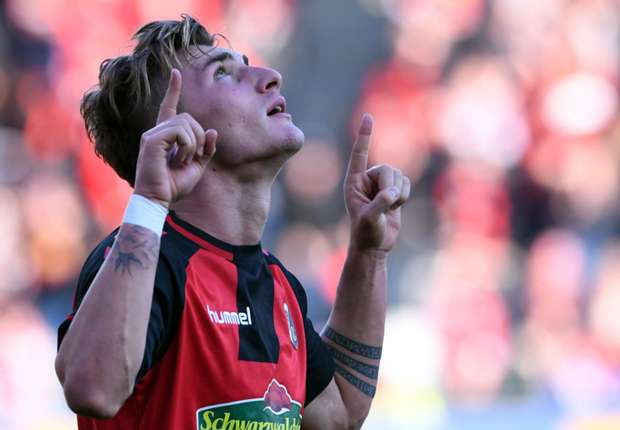 The English Premier League is widely considered as one of the best leagues in the world. Even though two of the best players – Cristiano Ronaldo and Lionel Messi – may not be playing in the division, it is often praised for the competitive nature with plenty of teams eyeing for the four Champions League spots.
Tottenham have also joined in this list of clubs aiming for the top four which is already filled with the likes of Chelsea, Manchester City, Manchester United, Arsenal, and Liverpool. Among these clubs, Tottenham and Arsenal appear to have targeted Freiburg midfielder Maximilian Philipp as a possible summer signing.
The 23-year-old has spent the majority of his professional career with Freiburg after having joined the second team of the German outfit back in 2013. Even though he is yet to feature for the German national team, Philipp has already made his mark in the Under-20 and Under-21 teams.
Freiburg have struggled to achieve consistency in the Bundesliga this season. However, it is a major boost that the club has returned back to the top flight after spending a season in the second division last term. It is still possible that Freiburg will be able to qualify for the Europa League at the very least this season. The club are only two places behind Frankfurt, who occupy the final Europa League qualification spot.
This appears to have been enough motivation for Philipp to consider extending his stay at the Schwarzwald Stadion. Even though he has been linked with a move to Tottenham or Arsenal, it appears that the 23-year-old has made his decision to stay in Germany. His explanations for doing so may not be agreeable by everyone. However, he said:
"Naturally every player – including me – has the dream to play in the Champions League one day. England was always my goal. I loved the football and the fans.

"But I think now the Bundesliga has overtaken the Premier League technically, and I can also imagine staying in Freiburg forever."
Tottenham have been one of the most improved teams in recent years. Even Arsenal legend Thierry Henry recently admitted that he is fearful of the North London outfit managing to finish above Arsenal for the first time since the 1995 season.
Such has been the progress made by Spurs under Mauricio Pochettino that they have resisted the urge to spend big on marquee names. Instead, they have been primarily targeting players like Philipp, who can contribute to the team in the long term. The statement by the 23-year-old is unlikely to deter any summer interest. Spurs and Arsenal are expected to come in with an offer or an enquiry for the 23-year-old.