'Excellent news for the whole club' – Tottenham Fans React On Twitter As Star Man Is Credited With Second PFA Young Player Of The Year Award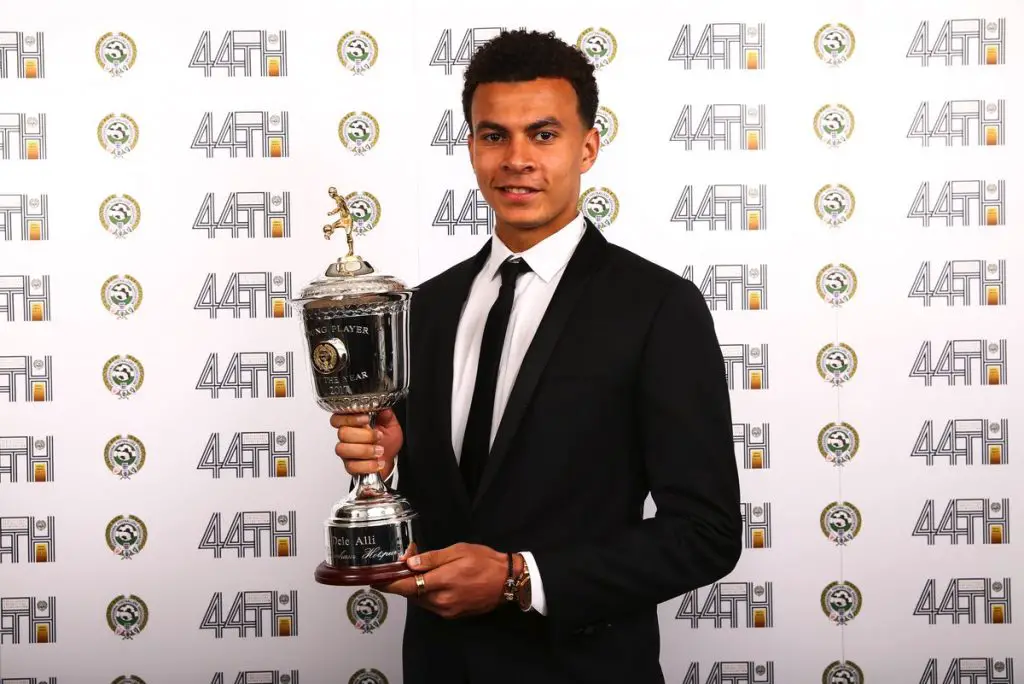 Tottenham star Dele Alli was announced as the winner of the PFA Young Player of the Year award earlier along with N'Golo Kante, who was announced as the PFA Player of the Year for the 2016/17 season. It certainly was a well-deserved win for both the players and there can be no complaints.
Alli wins the award for the second consecutive time, after winning the same for the 2015/16 season as well. He has been sensational for Tottenham all season and has become an important part of Mauricio Pochettino's plans at White Hart Lane. The young Englishman, who recently turned 21, has scored 20 goals and 11 assists in 44 appearances.
He even scored in the FA Cup semi-final loss against Chelsea and this award should heal some pain that Tottenham suffered on Saturday. It was an agonising loss as Spurs conceded 2 goals against the run of play.
Nevertheless, Spurs supporters were right behind their team and it looked as though Tottenham may yet make a comeback, until a Nemanja Matic wonder goal sealed things in Chelsea's favour. This leaves Spurs with only one good shot at silverware this season, with them trailing Chelsea by 4 points.
The Tottenham faithful were delighted with Alli's win and they took Twitter to express their joy. We managed to gather some tweets and put it together.
@PFA @Dele_Alli @SpursOfficial well deserved, congratulations on winning back to back #PFA Youngest player of the year #PFAawards

— mugenyi mathias (@mugenyimathias) April 24, 2017
@PFA @Dele_Alli @SpursOfficial Richly deserved. Great talent & nice guy to boot #dele #coys

— Mark Smith (@topbanana67) April 24, 2017
@SpursOfficial @Dele_Alli @PFA Dele Alli in the PL:

64 Games
57 Starts
26 Goals
15 Assists
2x PFA Young Player of the Year
2x PFA Team of the Year

— Ricky Sacks (@RickSpur) April 23, 2017
@SpursOfficial @Dele_Alli @PFA Not even a contest

— ㅤ (@thfcIad) April 23, 2017
@SpursOfficial @PFA @Dele_Alli Congrats DA! & thanks for your efforts

— … (@WontMakeASound) April 23, 2017
@SpursOfficial @PFA @Dele_Alli Well Done Dele

— eckaSpurs (@ECKA_Spurs) April 23, 2017
@SpursOfficial @PFA @Dele_Alli Congratulations Dele, PFA Young Player of the Year 2017! … #COYS
We Got Alli @Dele_Alli ⚽️⚽️⚽️

— SyH (@SyHashmi7) April 23, 2017
@SpursOfficial @Dele_Alli Congratulations my boy ✨ well done! You deserve it COYS

— Jacqueline (@ChaaquiMendez) April 24, 2017
@SpursOfficial @spurs_family @Dele_Alli Deserved it now stay focused until the end of the season. Strong finish please #COYS

— Billy Callender (@BillyC1882) April 23, 2017
@SpursOfficial @Brit66ishSpurs @Dele_Alli Heartiest congratulations to you Dele. Also big congratulations to Mauricio for giving him the opportunity to express himself #COYS #thfc

— kryptokev (@kevinfds) April 24, 2017
@SpursOfficial @Dele_Alli Congrats truly deserved

— Lynda Smith (@oconnor2706) April 24, 2017
@SpursOfficial @Dele_Alli You rock! #COYS

Love from WDC

— Andrea Jennetta (@Blinky819) April 23, 2017
@SpursOfficial @Dele_Alli Good man! Well done and excellent news for the whole club

— ^_^ (@drjimmy12) April 23, 2017