West Ham Chief Has A Sly Dig At Tottenham And Daniel Levy Over Contract Issues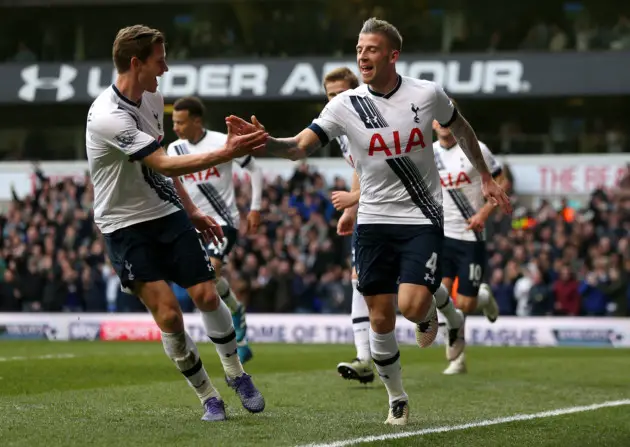 West Ham certainly got one over Tottenham in the London derby at the London Stadium by beating them 1-0. Manuel Lanzini's goal didn't just stop Tottenham's nine-match winning run but also punctured any real hopes of the Lilywhites winning the title ahead of Chelsea.
Now, West Ham's chief Karen Brady has rubbed some salt on the wounds by stating that Toby Alderweireld will find robbing a bank easier compared to getting a pay rise at Tottenham.
"Spurs defender Toby Alderweireld may be inspired by something similar if it's true he is demanding to double his money to around the £110,000 a week Harry Kane is said to earn," she told The Sun.

"Their chairman Daniel Levy keeps to a strict pay agenda and Alderweireld may find robbing a bank is easier."
The Hammers chief also added that Alderweireld contributed more than Kane and it was up to Levy to find a solution to the situation between the club and the Belgian defender.
"There is another point. Kane scores 20-plus goals, Alderweireld stops far more. Who should be paid more? Over to you, Daniel."
The two parties have been at loggerheads when it comes to the contract extension of the Belgian defender. Alderweireld wants to be on the same pay scale as the top earners in the club but Levy is a shrewd business man and will compare his options before making a decision.
The defender has also been linked with a number of European clubs such as AC Milan and while he is a big part of the Tottenham team, there isn't any player in the world who would not be sold for the right amount.
Alderweireld is only 28 at the moment and his best days as a central defender are ahead of him. Tottenham do need to keep the player as his partnership with Jan Vertonghen has been brilliant and losing the former Ajax man for wages will certainly be a questionable decision by the club.