'He's Leaving' – Speed Merchant's Instagram Post Sends Tottenham Fans Into A Frenzy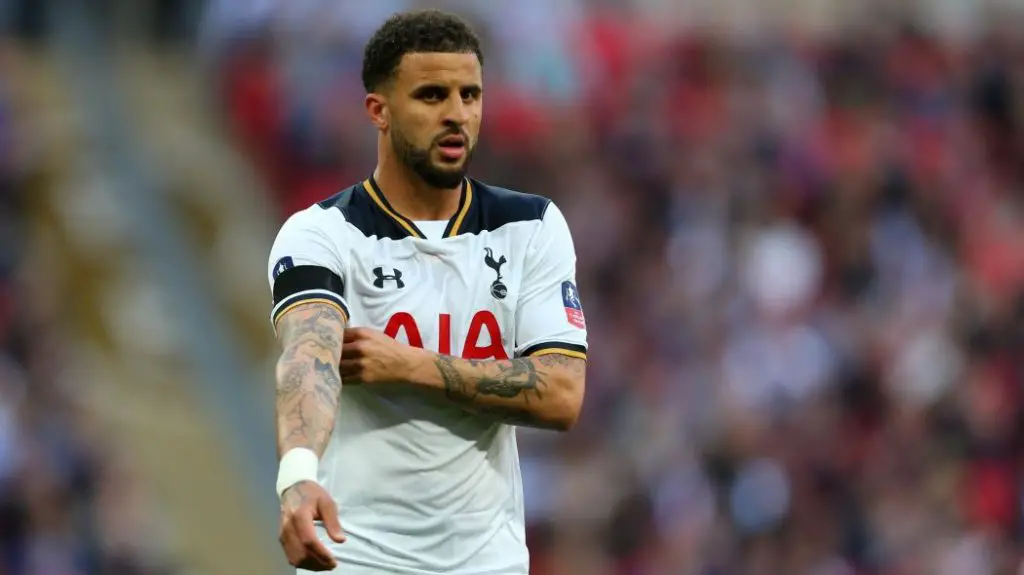 Kyle WalkerTottenham's season is certainly a successful one irrespective of whether we won trophies or not. This is by far the best season we've had in many years and a lot of fans would have no complaints. To those who complain, it isn't like we're celebrating a 2nd place finish, it is being happy about the rapid improvement our team has shown on the pitch.
It looks like we are now ahead of our noisy neighbours and this season's result should keep them shut for the next one year or so. Surely, the club is not going to rest on the laurels of being runners-up in the league and will show ambition to go for some quality players in the summer.
As important as it is to buy new players, it is also equally important to hold on to the existing players. The Tottenham XI is full of quality players and a lot of them are English. The team looks well settled but there seems to be an issue with one of them.
Kyle Walker was used sparingly in the last few weeks of the season and this led to a lot of speculations regarding his future. Now to add fuel to those speculations, the speed merchant himself has posted a rather cryptic message on his official Instagram account. This sent the fans into confusion as to what the Englishman was trying to convey.
Here's Kyle Walker's Instagram post,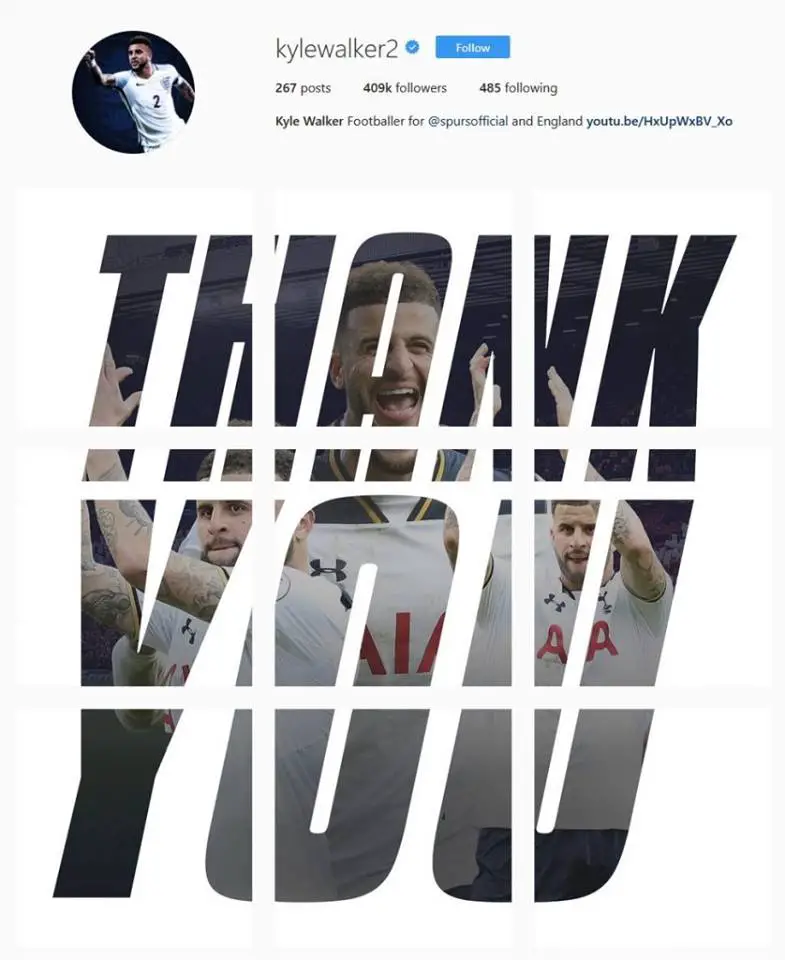 The fans took Twitter to address this and a lot of them had a lot of opinions on this matter. We managed to gather few tweets and put them together.
@SquawkaNews @primepogba6 NO NO NO NO NO NO NO NO NO NO NO

— Tara⚽️⚽️ (@omdaisies) May 25, 2017
@SquawkaNews He's leaving

— #PrayForManchester (@immyunited) May 25, 2017
@SquawkaNews I don't think he will leave personally but who knows

— Dan Evans (@DanEvans106) May 25, 2017
@SquawkaNews so every footballer is leaving cos they said thank you ….

— Ronnie Saini (@RonnieSaini_) May 25, 2017
@FootyAccums Trippier is better

— Tom Lochrie (@tom_lochrie) May 25, 2017
@101greatgoals He's just thanking the fans for the support all season?

— Matt (@Mateehhh) May 25, 2017
@JustTottenham @SkyFantasyFooty Apparently Walker's Instagram post was saying thank you to the people in South Korea, now in Hong Kong with the rest of the squad!!

— Nigel Parker (@parker_nigel) May 25, 2017
Kylie walker's Instagram worries me!

— Bryce (@BreezyB100) May 25, 2017
City selling/releasing players. Kyle Walker posted 'Thank You' on his Instagram. I smell 'Kyle Walker leaves Spurs for money'

— Raihan Ferezha (@RaihanFerezha) May 25, 2017