'Spurs fans are an emotional lot' – Tottenham Fans Go Berserk As Youngster Poses In A Chelsea Shirt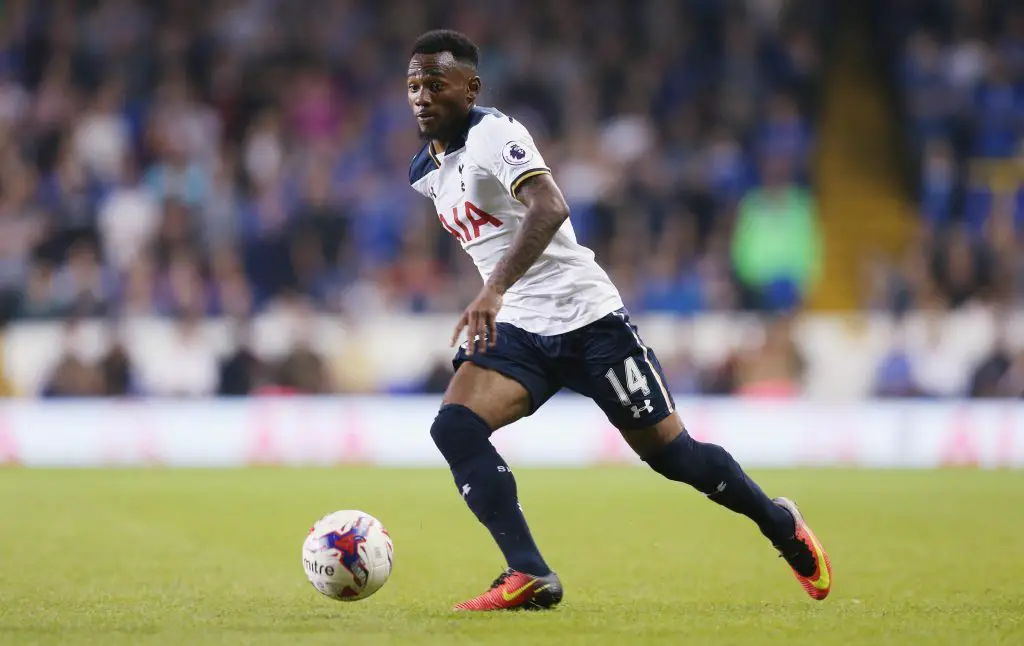 Oops! This one is up for some debate. We have seen players make the switch between rivals and don the rivals' jerseys. Well, though it is totally unethical, it can be forgiven considering professional reasons. But wearing a rival jersey when playing for your current club? That's something that needs to be looked into.
A photo of Georges-Kevin N'Koudou wearing a Chelsea training shirt has split opinions among the Spurs fan community with some wanting him to leave and others believing the reaction has been over the top.
One Tottenham supporter even claimed that he had seen Spurs legends Paul Gascoigne and Glenn Hoddle in Arsenal tops before and that it was not a big deal.
The photo emerged on Monday night of the 22-year-old French winger wearing a Chelsea training shirt. The photo would have had to be taken in the last 12 months as Carabao only became the sponsors of the Blues' training tops last season.
However, N'Koudou explained that it was given to him by his friend Michy Batshuayi and hence he was wearing it.
The fans took Twitter to react to the picture and we put together a few interesting reactions. Read on!
This was the picture!
Oh dear we are in trouble pic.twitter.com/djiy2HXNqh

— Ikey. (@PochTheMagician) June 19, 2017
Here's what N'Koudou had to say.
Lol @ clickbait … I'm wearing the shirt my friend @mbatshuayi gave me… NO disrespect here just old friendship sorry for not knowing

— GK NKoudou (@gknkoudou) June 20, 2017
And the fans' response to the picture!
Georges-Kevin Nkoudou you are a very stupid person! People argue that footballers are thick and you've just fuelled it! https://t.co/qUAnOGLJIA

— Richard Roskell (@richrosk) June 20, 2017
Thanks for the memories but it's time to say goodbye pic.twitter.com/YsdsXUEyVQ

— Harry C (@HazSpur92) June 20, 2017
Stupidity is not a crime however after a poor first season where people question ability & attitude this does not help for me.

— SpursNews (@SpursNews1961) June 20, 2017
Nkoudou and Batshuayi are bromance levels of closeness. People need to chill. I've seen Gazza and Hoddle in Arsenal shirts. Calm yourselves.

— Liam (@LiamJM10TV) June 20, 2017
That probably shows he's not serious enough about his commitment to Spurs. Won't be surprised if he's the first to be shipped out

— kryptokev (@kevinfds) June 20, 2017
Difference between Kane and nkoudou is obvious. One was an 11 year old who knew no better. Now he despises them. #ShirtGate

— Brockmire (@rossysav) June 20, 2017
Nkoudou in a Chelsea shirt. My dreams have finally come true

— Alan (@LaptopManager_) June 20, 2017
I forgive you. Now get @mbatshuayi in a Tottenham shirt. Friendship should overcome rivalry.

— JB ⚽ (@JAGBASSI10) June 20, 2017
"didn't think" is the operative word.

— Tottenham Army (@tottenhamarmy01) June 20, 2017
Lost hope in Nkoudou after that pic

— – (@IshyKaratas) June 20, 2017
I can't understand people defending if be fuming anyone but I'd let of dele etc but nkoudou complete trash ahaha rather have njie

— Addicted To Spurs (@addicted_spurs) June 20, 2017
Spurs fans are an emotional lot. ..

— Darren ✌ (@darrenevanscoys) June 20, 2017