Tottenham In The Mix To Sign €35m Barcelona Flop – Arsenal And Other League Rivals Keen As Well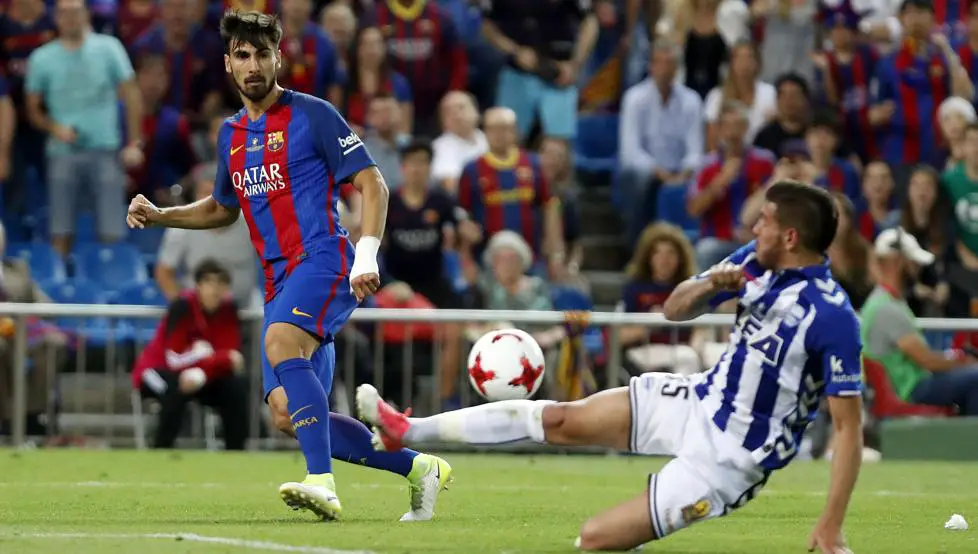 Andre Gomes is a wanted man, according to the Spanish newspaper Mundo Deportivo. The Spanish outlet claims that at least three clubs are interested in signing the former Valencia midfielder.
What the report cannot say for sure is which North London club put in a bid for him. The report states that Serie A champions Juventus and Manchester United are definitely in the running but it could be either of Arsenal or Tottenham as the third team in the mix.
The 23-year-old Gomes joined the Catalan giants for €35 million only at the start of last season from La Liga club Valencia. However, he failed to impress many and only scored three goals and provided three assists in 47 games for the side.
The failure to nail down a spot in the first-team could be a reason why many clubs are being linked with him but Barca have rejected all three offers as they look to prep him to take over from an ageing midfield.
The link might make sense for us since we are in the market for a quality midfielder and Gomes does have a great engine to boot. Additionally, Mauricio Pochettino did have a stint as Espanyol manager and could use his link to bring in more talent from Spain.
It would be great to have him in the side but with Barca already rejecting three bids, we cannot see the deal taking place anytime soon.
Gomes also has a lengthy contract with the La Liga side till 2021 and Barca would want a large amount if we are to bring the 23-year-old to the Premier League.
Our Verdict
The midfielder too would be wary of moving to another country prior to the World Cup year and losing his place in the Portuguese national side would be a huge error if he does decide to switch clubs.
The rumour could have been brought up as we haven't been doing a lot of work in the transfer window and instead of Ross Barkley, there could be a buzz if a Barcelona player was linked with us.
There will be more news coming in of us being in the race to sign other players but Gomes coming to Spurs is extremely unlikely, at the moment.