'Forget it…you don't spend, we don't spend' – Tottenham Fans Rage On Twitter Over Ticket Prices Ahead Of Friendly With Juventus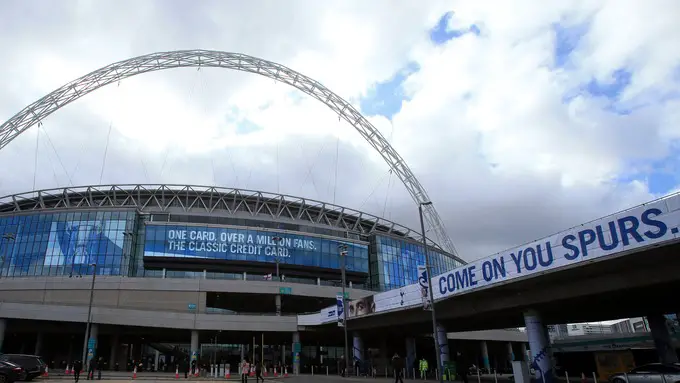 Tottenham Hotspur fans are furious with the club over the astronomical ticket prices for tomorrow's friendly against Juventus at the Wembley. Pre-season is not just for the clubs to finalise their preparations for the new season. It is also for the fans to get a glimpse of the squad and extend their support.
The histori Wembley Stadium will play home to the North London outfit this year as the White Hart Lane goes through renovation.
The Saturday's fixture is not a competitive fixture but it is an important one nevertheless. It will be the first time since the end of the 2016-17 campaign that Wembley will host a game and it was expected that the fans will flock to the stadium in big numbers.
When the ticket prices were announced last month, there was a backlash from the fans who were furious with the high rates. Most fans reminded on Thursday that seats are still available because of this reason. The starting price is £24, enraging the supporters, most of whom wanted to take a glimpse of the Serie A top stars in addition to our own superstars.
In the past, Tottenham's friendlies at home have been cheaper affairs, with £10 tickets at the White Hart Lane. It must, however, be noted that the prices are set by the company 'Relevent Sports' and not by the club who are mere guests.
The fans though, are very furious. Some fans have called the other to boycott the match as a sign of protest to the club ahead of the new season. Reactions on Twitter showcased the mood.
Forget it…you don't spend, we don't spend. #EnoughIsEnough

— Pete Mitchell (@SimbFan) August 3, 2017
This fan wants the boycott, as a protest.
Jog on you mugs!! All fans should be boycotting the f#####g game!!

— Andy McGowan (@MrMac1985) August 3, 2017
This fan hits it hard saying no one cares about the match because of the prices.
No one cares and you know it.

— Clive Edwards (@cliveedwards10) August 3, 2017
Tottenham Hotspur attitude to fans BOYCOTT… even if you purchased stay away next season new stadium it will only get worse pic.twitter.com/9Bfx11CawY

— Ben C (@BC010984) August 3, 2017
Tottenham are taking the absoloute piss! Wembley prices, the ticket exchange, lack of signings and still not announced the Newcastle cut off

— Carly Bourne (@carlybourne3) August 4, 2017
Try paying the equivalent of £120 for a ticket to a single hockey game here in Canada. And thats an 'ok' seat.. Madness these days..

— Robbie Keano (@I_AM_TOTTENHAM) August 3, 2017