"Serge Aurier's like Melisandre" Tottenham Fans React To The Defender's Performance vs West Ham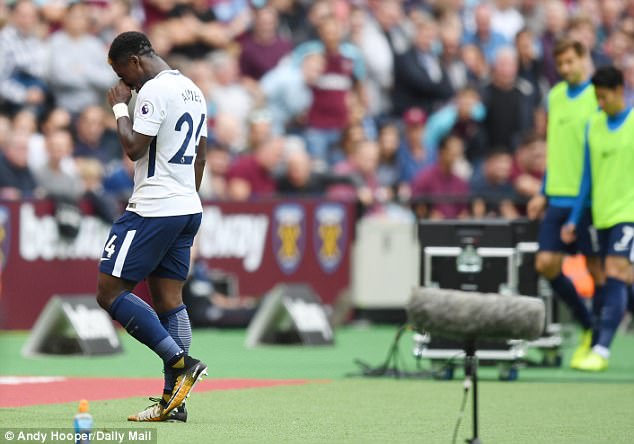 Tottenham just about held on in the end as they defeated West Ham United 3-2 at the London Stadium. This is the first time we have won our first three away games of a Premier League season and it didn't start all that well as the Hammers were on top in the opening stages.
But up stepped Harry Kane who scored a quick fire brace in the first half, the first one being an excellent header from a whipped in cross from Dele Alli while the second was a typical poacher's finish.
The second half started in the same manner for us, with Christian Eriksen scoring. But one of the major talking points was the sending off of Serge Aurier. The signing from PSG, who was sent off on the same date last year as well, started the first half really well as he crossed in a fizzed ball which Kane could not convert. But he also had a handball shout against him not given, which was lucky for us.
The Ivorian was booked for a second time, in the second half, for a stupid challenge on Andy Carroll and then it all started. Chicharito had already scored before Aurier was given his marching orders and that provided West Ham with a powerplay of sorts for 20 minutes.
Things got really scary for us when Kouyate scored in the 87th minute but we just about held on, even after a Hammers barrage on our goal.
Aurier did really well in the first half but that fire and aggression needs to be checked if he is to be a success at the club.
A number of reactions featured on Twitter regarding the game and the sending off of Aurier. And here are some of the best.
Aurier receives his 1st red card in only his 2nd PL appearance. Spurs had not received a red card in their last 83 PL matches #WHUTOT

— Gracenote Live (@GracenoteLive) September 23, 2017
https://twitter.com/Dierbetic/status/911578020711936001
https://twitter.com/TantalizingToby/status/911576953404223488
You have to work really, really hard to get sent off as a Spurs player. Aurier can have few complaints.

— Tim Stillman (@Stillberto) September 23, 2017
https://twitter.com/thfcKene/status/911582890303148032
So frustrating from Aurier. I thought he had a really industrious, exciting, dynamic match until that ridiculous moment. Could have cost us.

— Chris Miller (@WindyCOYS) September 23, 2017
Aurier's red put us in a really bad spot. Have to be smarter in the future. Good three points though. We move forward. #COYS

— Cleveland Spurs (@ClevelandSpurs) September 23, 2017
https://twitter.com/jaimitoelcrack7/status/911580410102116352
Serge Aurier's like Melisandre, implausibly bringing back to life a thing that seemed very dead.

— Jonathan Wilson (@jonawils) September 23, 2017
Not having Serge Aurier at all. Didn't really need him in 1st place. Got Trippier as 1st choice and Walker peters as backup.

— Alan Marriott (@Mazza_78) September 23, 2017
Early days but Serge Aurier may be the most wildly erratic player the Premier League has seen since Temur Ketsbaia

— Sachin Nakrani (@SachinNakrani) September 23, 2017
Goodnight Aurier https://t.co/wrqIE2sj6n

— David O Flaherty (@Dave_OFlaherty) September 23, 2017
I love Serge Aurier but why does he need to be such a cock, like, 70% of the time? https://t.co/3HwnRJTkfr

— mbappé ka sithayi (@comradesipho) September 23, 2017