Tottenham Face Delay In Construction Of New £800m Stadium – Might Not Be Ready For Start Of 2018/19 Season

Tottenham are racing against time to get their new stadium ready in time for the start of the new season. According to the latest reports in The Mirror, Spurs could be looking at a delay in the completion of work on their new stadium.
Spurs Chairman Daniel Levy and manager Mauricio Pochettino were recently pictured at the new construction site as the duo was updated on the progress during the tour of the new 61,559-capacity arena on Friday.
The stunning £800m stadium is expected to be the ticket to the league of top European clubs for the Lilywhites. Already heralded as the finest that there is going to be in North London once it gets completed, the new stadium is already catching attention all through the construction too.
The club decided to bid adieu to the White Hart Lane at the end of last season – which they did with a win over Manchester United. As the new stadium takes shape, Spurs chose Wembley as the temporary home for the 2017/18 season.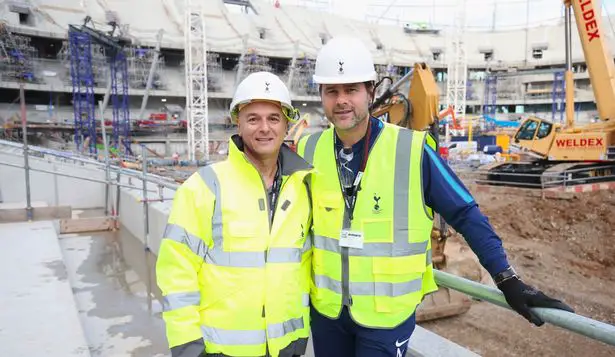 It was initially reported that the plan was to have the new stadium set and running by the time 2018/19 season kicks-off. However, it is now being reported that the club is still unable to say if the new stadium will be ready by then.
These reports also indicate that the Spurs' management has already spoken to the Premier League about rearranging some early fixtures but were told that there is only limited scope for their home matches to be pushed back.
There is a precedent to this as last season saw Liverpool get their home matches postponed until after September 10 – almost a month after the season started – as they were building their new main stand.
Even this year saw the same story being played out, this time at West Ham United. The Hammers saw their first home game pushed back to the second week in September while their London Stadium was being reconfigured after the World Athletics Championships.
Even if granted this wish, Spurs feel that they wouldn't need more time than what was afforded to West Ham United or Liverpool.