With 2 Talented Englishmen Heavily Linked With A January Move, Who Would Be The Perfect Signing For Tottenham?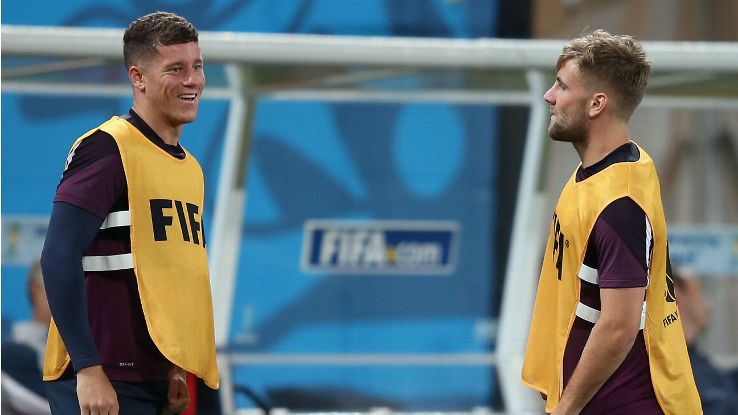 Tottenham Hotspur manager Mauricio Pochettino will have some key decisions to make ahead of the January transfer window. Among all the names that are linked with the club ahead of the winter window, two of them stand out.
Left-back Luke Shaw of Manchester United and Ross Barkley of Everton are on the club's radar and if reports are to be believed, there is considerable interest and anxiety for both players to join the North London club.
Top of the list is Shaw, who is desperate to link up with Pochettino, who managed the youngster at Southampton before he earned his big-money move to Old Trafford. (The Sun)
Then, of course, we have the England international midfielder Barkley who is determined to join Spurs, after having rejected a move to Chelsea in the summer and a contract extension at Everton. (The Mirror)
So, who would Spurs go for? There is no doubt that both the players have huge unfulfilled potential. Critics point to the inconsistency in their game but there is a school of thought that they can become one of the best, with proper guidance.
Pochettino's expertise in developing youngsters certainly appeals to them and that should explain their desperation in linking up with the Argentine at the North London club.
However, bringing both players could mean stretching the resources of the club – both financially and operationally. As both would need increased man-management, Pochettino could be pressed to choose one of the two in the winter window.
The left-back isn't a position that requires immediate attention as the emergence of Ben Davies has added depth to our squad. The pursuit of Shaw could hinge on Danny Rose's future at the club, with the experienced England international having already voiced his desire to leave the club.
Whether it will be midway through the season is a big question and Spurs will wait for United to make their move. It could even be a swap deal involving Rose and Shaw – which may not be a bad option at all, for Spurs.
As for Barkley, the injury concerns around Victor Wanyama and Mousa Dembele could force Pochettino's hand to go for his signature. However, it must be noted that neither looks ready to contribute straight away to the first-team.
So, the question persists – who should Pochettino sign? Ross Barkley or Luke Shaw?
https://youtu.be/iOPMnCQfZ8k