(Picture) Harry Kane Spends Quality Time With North London Rival Ahead Of The Derby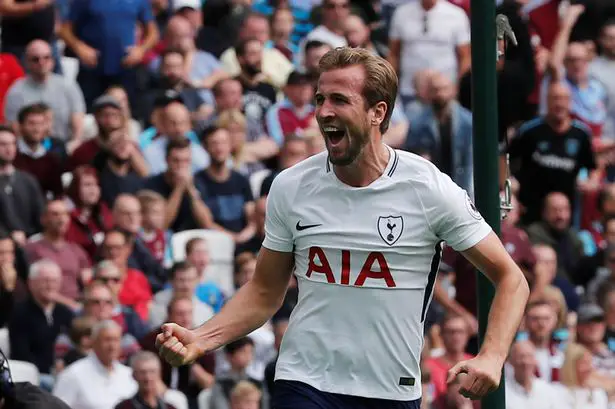 Tottenham Hotspur striker Harry Kane was spotted sitting down with Thierry Henry ahead of the North London derby against Arsenal on Saturday. The duo was doing a special edition of Nissan Match Zone for Sky Sports' pre-match television coverage.
Kane wrote about the encounter with Henry on Twitter:
"North London rivals but respect. Filming with @SkySportsPL and @ThierryHenry today."
Together, Kane and Henry represent the deadliest striker duo you can imagine in the history of English Premier League. While the exploits of Henry with Arsenal have made him a legend with the Gunners and one of the best foreign strikers to have played in England, Kane's success with Tottenham is promising to break new barriers.
Kane is the top scorer in the Premier League for the last two seasons and is looking good for another tilt at the 'Golden Boot' this season. Apparently, Kane is looking to improve his game and get more assists to his name. Should he do that, Mauricio Pochettino will have a deadly striker at his disposal.
https://twitter.com/HKane/status/930842035980046336
The 24-year-old already has 8 goals to his name this Premier League season and would look to increase it by scoring against Arsenal this weekend. Kane generally gets into his zone in derbies, so expect him to be at his best when he takes the field at the Emirates.
There were worries, though, among Spurs fans over the availability of the star striker. Having picked up an injury in the game against Liverpool and then in the Crystal Palace game, Kane struggled with fitness, although he is back to 100% fitness ahead of the North London derby.
Kane missed the friendlies for England against Germany and Brazil during the international break after sustaining an injury against Crystal Palace. But he was spotted in the training ahead of the derby, which is indicative of the fact that he is fit and ready for action.
So, this interview should be a boost to all the fans who can now look forward to Kane's heroics against our old enemy. I certainly believe that Kane will lead us to another win over Arsenal.
What do you think?
https://youtu.be/f3vuh-xmTqQ