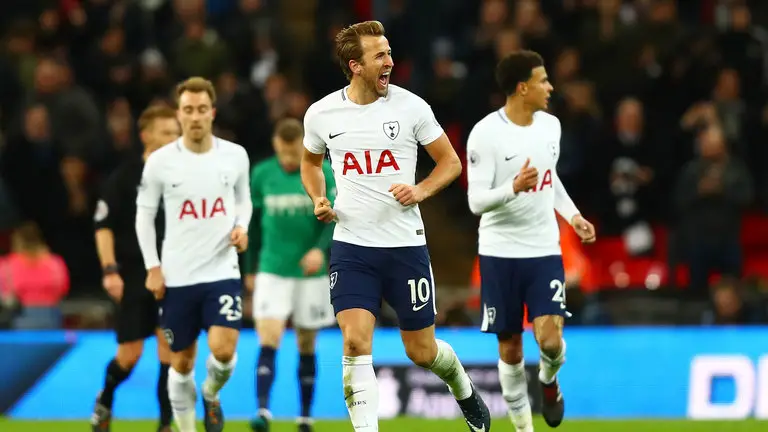 A frustrating result and Harry Kane perfectly summed up the outcome by branding it simply "not good enough." Tottenham were left wandering in as early as the 4th minute of the game after Jake Livermore found Salomón Rondón who nudged past Davinson Sanchez with ease before slotting an important goal past Hugo Lloris.
Beating a defensive side as West Brom is never an easy task, coupled with the fact that 4 of the last 5 Premier League games between these two sides has been drawn. Tottenham learned their fate the hard way. Furthermore, a draw means Tottenham now sit 5th on the log with 24 points – 13 behind the leaders Manchester City.
"It leaves us quite far behind in the league," said Kane (BBC), who has been involved in 100 Premier League goals in 128 games, after the game.

"We have to look back and see why we were slow getting going in the first half. But it's not good enough."
As the game approached its final 15 minutes, Tottenham responded with Harry Kane denying the visitors their first victory in any competition since August. The Baggies are now 12 games without a win. Talking numbers – which is totally irrelevant in context to the result – Tottenham enjoyed the majority of possession (74%) and even had more attempts (24) but only 5 of them came on target.
"Of course we are disappointed. In the way we concede the first goal, and then they had the belief. For us it was difficult, it was a massive impact for us, and difficult to come back to the game, Pochettino was quoted by Sky Sports.

"In the second half, I think we created enough chances to score and win the game, but were unlucky because we didn't have enough time to score the second goal."
Having said that, the fans were left furious with the result and this is how they reacted:
Wish poch would just stick with rose and aurier as wing backs for a few games in a row.just some consistency

— james (@James882James) November 25, 2017
Am I the only one worried about the EPL brand? It is WAY too easy for a mediocre team (West Brom) to kill a game. That was everything the EPL should not be and more games like that will simply result in fewer butts on seats.

— paul winter (@paulthedad1) November 25, 2017
4 points from 12 and only 2 goals scored a bit of a worry.

— Mark (@mnahug) November 25, 2017
Poor result really, but to be expected missing Toby badly. I still think Dele and Harry are not match fit and put the exerts of Wednesday in German and you could see us struggling today. Last season we ran on adrenaline at the Lane it was special and we went unbeaten. Still proud

— Shaun Early (@shaunofcas1) November 25, 2017
Shit effort !

— (@dovdr763A) November 25, 2017
Title gone. Focus on FA cup and Champions League.

— Carl Sinclair (@carlsin81) November 25, 2017
We really need to beat teams like this

— Cass (@NeilCasson) November 25, 2017
I was there. The most memorable moment was me standing next to some old geezer taking a piss and drinking his pint.

— Tom (@Coffin_Stuffer1) November 25, 2017
Worryingly disappointing

— Colin Hulyer (@ColinHulyer) November 25, 2017
Spurs I love you… but you really make my piss boil sometimes… OK. . A lot of times! Coys

— Mike Arkwright (@mrarkers) November 25, 2017
We're just concentrating on winning the champions league I take it #coys

— Pops (@DavidPops17) November 25, 2017
— Abe the Babe (@kingabe87) November 25, 2017