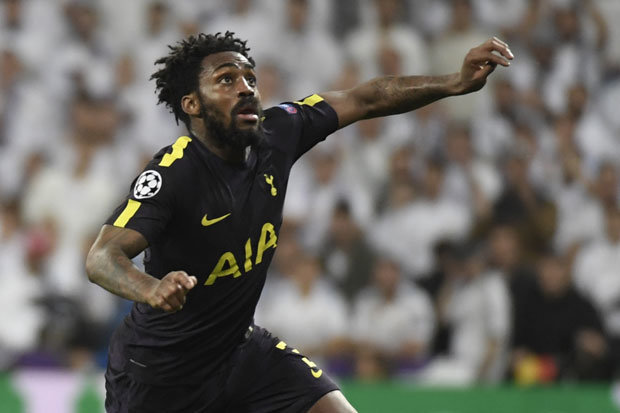 Left-back Danny Rose has sparked fury among Tottenham fans again, not with his comments but with his on-field body language.
Rose, 27, has been heavily linked with a move away from north London since the attack-minded full-back returned from a long-term injury. According to Daily Mail, he is a £50m target for Manchester United, with some outlets suggesting he could complete a transfer as early as January.
The England international's future has become uncertain since the summer, when he gave a sensational interview with The Sun, questioning the club's wage structure. Rose did apologise for that statement, and manager Mauricio Pochettino has included him in his first-team plans after that.
However, Rose irked the fans last night again following his reaction to being substituted during their 3-0 Champions League victory over APOEL Nicosia.
The left-back was replaced by Kyle Walker-Peters in the 70th minute after suffering a cut to his left eyebrow that caused blood to run down his face. He was substituted as he needed further treatment, not before shoving Roland Sallai which resulted in the defender picking up a yellow card.
Rose reacted negatively to manager Pochettino's decision and stormed down the tunnel, having failed to acknowledge our gaffer. Pochettino didn't look impressed either and gave Rose a stare as he walked into the dressing room.
Some Spurs fans were unimpressed with the incident and took to Twitter to demand that he should be sold by the club. We bring you the best tweets, with the fans still suspicious over whether or not if Rose is fully committed to our side now.
Danny Rose get the fuck out of my club!! What a tosser if I was Poch I'd have the prick up against the dressing room wall by the throat! Attitude stinks!! Go fail somewhere else especially for €45-50m the wanker #COYS

— Des Walsh (@desTHFC) 6 December 2017
Getting a stupid yellow and marching off down the tunnel in a mood is not going to win you any fans Danny Rose. #THFC

— Spurs News Today (@TodaySpurs) 6 December 2017
Danny Rose's attitude stinks… just leave already #TOTAPO #COYS

— Jack Marsh (@marshy0404) 6 December 2017
Just get Danny Rose gone in January. Doesn't want to be at the club. Wants more money as his heads been turned elsewhere. Cash in, move on. Buy Sessegnon and re build. #COYS #THFC #spurs

— Benjamin Carp (@benjaminllcarp) 6 December 2017
Just sell Rose as soon as possible. Horrendous attitude who's head isn't in it anymore. Get him out. #THFC #TOTAPO

— Jordan Pomeroy (@EastTerrace00) 6 December 2017
Must sell Rose to Barcelona and give Walker-Peters a run. #coys

— Tim Cruickshank (@twe_tim) December 6, 2017
Danny Rose and Poch feels like a couple where both parties know it's over but they have to live in the house together until it gets sold.

— Öliver. (@UtdOliver) December 6, 2017
Good morning to everyone except to Danny Rose.

— LP ✈️ (@WinksEsque) December 6, 2017
Danny Rose don't you dare disrespect my Manager like that.

— Matt. (@MauricioMagic) December 6, 2017
Spurs fans finally realise that Danny Rose is a dickhead. Congrats, you're about 5 years too late.

— 1886 (@1886_blog) December 6, 2017
As far as I am concerned if any player is not committed to spurs then they can do one ! fed up with all the rose talk he is basically a liar not focused on the team #coys #thfc

— Paul Naudo (@NaudoPaul) December 6, 2017