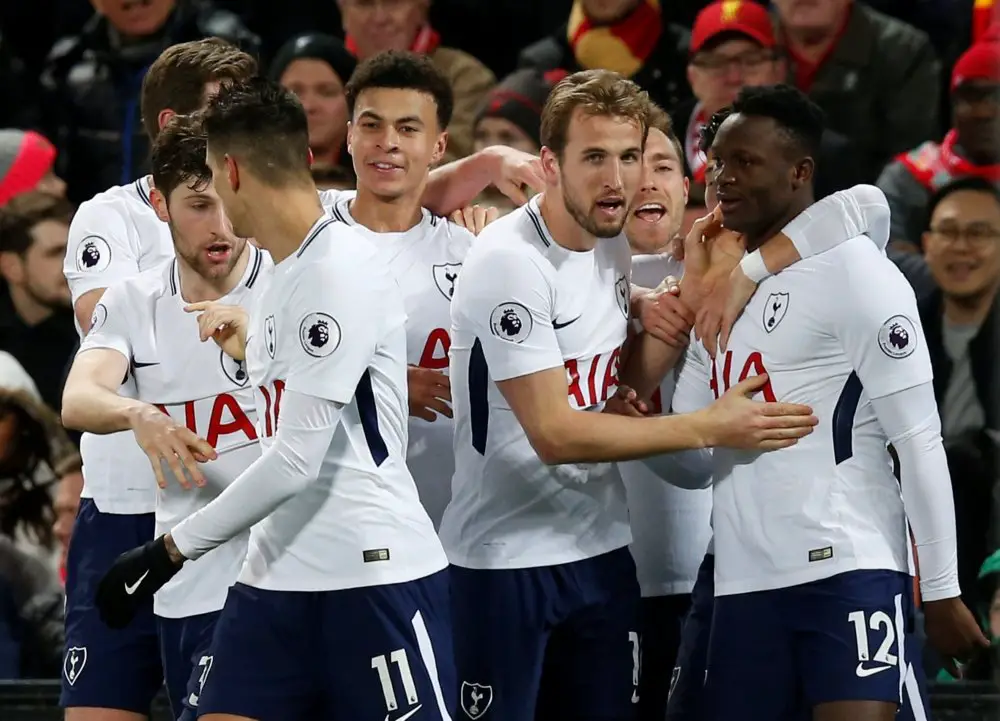 Harry Kane scored his 100th Premier League goal to help Tottenham Hotspur earn a vital 2-2 draw against Liverpool at Anfield on Sunday in what turned out to be a mesmerising contest. Things couldn't have got off to a worse start for Spurs as Mohamed Salah opened the scoring inside three minutes.
An erratic backpass from Eric Dier fell to Salah behind Spurs' backline and the Egypt international slotted past Hugo Lloris to bag his 20th league goal of the season. The Reds dominated the proceedings from there on; giving Spurs no chance to come back in the first-half. The visitors looked insipid and flat with the ball at their feet, often lacking movement.
Understanding the problem in the first-half, Mauricio Pochettino addressed it and Spurs altogether looked different after the break. They came out strongly with Heung-min Son, Christian Eriksen and Dele Alli looking livelier and responsive.
Liverpool, on the other hand, looked a bit exhausted for their relentless pressure and lacked the cutting edge in the second-half that allowed Spurs to get back in the game.
A lack of dynamism in the midfield saw Jurgen Klopp introduce Alex Oxlade-Chamberlain and Georginio Wijnaldum. In reply, Pochettino made an attacking substitution by bringing on Erik Lamela for Davinson Sanchez before swapping Victor Wanyama for Mousa Dembele.
Poch's substitution worked wonders inside a minute as Wanyama equalised through a rocket of a shot that gave Loris Karius absolutely no chance. The Kenyan's goal looked to have settled a point for Spurs before Kane was offered a spot-kick for his 100th goal, which he failed to convert.
That miss from the Spurs striker reinvigorated Liverpool and Salah delivered the goods in stoppage time with an angled left-footed drive. But credit to Spurs, who got a second chance from the spot in a controversial call from the linesman before Kane obliged by netting the penalty for his 100th league goal.
This is how Spurs fans, who once thought we had lost the game, rejoiced after Kane equalised. Here we bring you the best of tweets.
Spurs fans everywhere pic.twitter.com/UNRzQbCCIo

— Becky (@becksthfc) February 4, 2018
Every Spurs match I watch reduces my life expectancy by about 4 months

— steve, but in 2018 (@Steve_THFC) February 4, 2018
Before the game I definitely would have taken a point, but we really should have won that game #COYS

— AJ (@AJHFUSIONZ) February 4, 2018
Great goal by @VictorWanyama in a much improved 2nd half performance & an excellent away point! #THFC #COYS #PL

— Rocky Gill (@CllrRockyGill) February 4, 2018
Whoa what a game! #COYS ⚽️

— Chintan Patel 🌀 (@chintancsco) February 4, 2018
You will be the death of me! My doctor will end up putting me on medication but…I can't smile without you! 💖😍 #COYS

— Mario London (@Londonmazza) February 4, 2018
Need Toby back ASAP !!! Sanches no where near good enough!!! Let's vertonghen down every time he plays !!!! #coys

— Jamie marsh (@Jamiema202018) February 4, 2018
You're getting the bill for my dentistry, you beautiful bastards!

— Christian Thomas (@Chris_T_Bassist) February 4, 2018
Guess we are going to rely on other teams to do this top 4 thing then??? A draw does not mask the poor display.

— Mike Arkwright (@mrarkers) February 4, 2018
Please 🙏🏼🙏🏼🙏🏼 start wanyama over dier from now on!!!! Wanyama is so mich better than him

— james (@James882James) February 4, 2018
Great second half by the boys, think i got sick after this one #COYS

— Alexander (@Megakeeps) February 4, 2018
Away with a point I suppose I'll take that, disappointed tho feeling we could have given a little more and made more of a game of it.

— Delon Pillay (@delon_pillay) February 4, 2018