"Definitely was"- 26-year-old Tottenham star believes Liverpool deserved the red cards
Tottenham Hotspur star James Maddison feels Liverpool players deserved the sending-off amid red card chaos
Tottenham Hotspur midfielder James Maddison stated that both of the red cards Liverpool received were deserved, despite objections from Jurgen Klopp.
Spurs secured a late victory against a 9-man Reds after Curtis Jones and Diogo Jota were both shown red cards by referee Simon Hooper.
The winning goal came in the dying moments of the game when a mistake by defender Joel Matip resulted in an own goal, giving Tottenham all three points.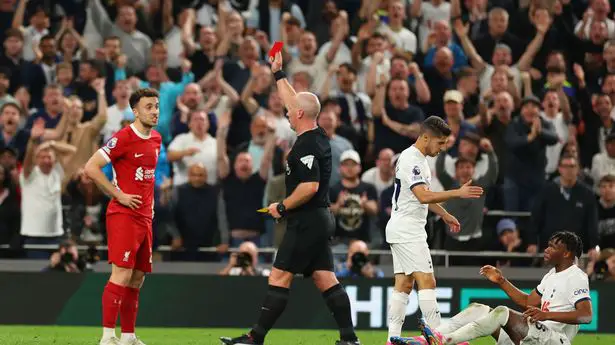 Liverpool will be without the two suspended first-team players for their upcoming match against Brighton, and they also lost Cody Gakpo to an injury.
In addition to the red card incidents, there was controversy surrounding an offside call that denied Liverpool an early goal when the game was still scoreless. The PGMOL accepted a "significant error" in that decision.
However, Liverpool boss Klopp expressed his frustration with the result after his team lost out on a potential point due to these incidents. Meanwhile, Tottenham's new-signing Maddison had no objections to either of the referee's decisions.
As quoted by the BBC, the 26-year-old said:
"Jota's definitely was. The Curtis Jones one early on got shown on the big screen I think was a red card as well. I'm not sure Jurgen will complain too much about those too."
The jubilant celebrations by the Tottenham players at the end of this incredibly dramatic game were like applying salt to Liverpool's wounds.
Maddison might have given his verdict on Jones' sending-off based on the video replay which is in slow motion.
However, when you watch the incident at full speed and consider the context, it becomes clear that this should not have resulted in a sending-off.
However, the situation with Jota's red card is somewhat more understandable, and it's likely that the Liverpool fans would not be happy with their player.
It's clear that Jota should not have gone in with a tackle the way he did, especially considering he was already carrying a yellow card.
It is a massive letdown for the Reds but surely a result worth remembering for the Spurs. They were into the game until the last minute and the advantage of having extra men played in their favor.
Things would have been trickier for them otherwise. Postecoglou's men including Maddison will be happy with the referee's decision as it has helped them jump to second place in the league table.
They will be carrying this momentum in their next home league match against Fulham, after the international break.
More Tottenham Hotspur
Meanwhile, the Merseyside club has slipped to fourth and will miss two players in their next PL clash against Brighton and Hove Albion which is scheduled to be held next week at Anfield.