Why This 22-year Old Has All It Takes To Be A Tottenham Superstar And What Spurs Need To Do For It?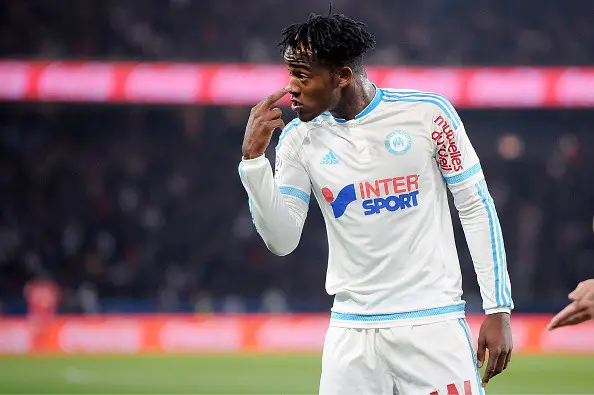 Tottenham were linked this week with 22-year-old Belgian striker Michy Batshuayi, currently on a sterling run of form for Ligue 1 side Marseille. The striker had been in the club's sights for some time now, with rumors having first popped up over the summer.
Back then the appeal was obvious: beyond simply being Belgian, Batshuayi was a young striker who was overflowing with talent.
In six starts and nineteen substitute appearances last term, he had scored seven goals. Not exactly prolific, but certainly better than most players who regularly start from the bench rather than out on the pitch. In terms of what Tottenham were looking for then – and are still now – this was perfect. Here was a young player with connections to the club via his nationality and one who was perfectly content with starting from the bench.
With Harry Kane coming off a 30 goals season and seemingly set to do it all over again, having a young striker on the roster who was willing to play backup for the time being was vital. Most other talented strikers that would otherwise fit Tottenham's requirements – say, Saido Berahino – were either priced out, expecting to start or both.
Why Tottenham were unable to acquire Batshuayi's services then likely comes down to the situation at Marseilles. Despite a largely successful campaign last season, Marseille couldn't stop almost all of its best players from leaving the club. Among those players was Andre-Pierre Gignac, the striker who stood in front of Batshuayi in the pecking order.
With the French striker gone, Batshuayi was free to take on a starting role. The club were simultaneously eager to retain their budding talent and deflected any attempts to poach him in the summer.
Now, more than halfway through a rebuilding campaign, Marseille appear to be interested in hearing out offers. Presumably said offers have become more frequent – and more pricey – after Batshuayi has begun to prove his worth as a striker.
In 32 appearances in all competitions for Marseille, Batshuayi has scored 16 goals and set up seven assists. He has a poacher's instinct with his strikes, a talent made even more deadly by his keen sense of positioning. There is plenty of budding talent on this Marseille team, but Batshuayi's talents in the 18-yard-box make everyone involved in the attack look better.
It's precisely that potency that Mauricio Pochettino would love to bring to Tottenham. While Kane is a more versatile player – a striker who regularly drops deep to help reclaim possession – Batshuayi would be a more out-and-out goalscorer. There's a place in every team for a player like that, and at 22-years-old Batshuayi is still capable of learning to fit more completely into a system as rigorous as Pochettino's.
The only hurdle that might yet prove troublesome for Tottenham is Marseille's reportedly steep asking price of £25 million. Tottenham spent a little less than that for Heung-min Son's services last summer, so it's not as if such a price tag would dissuade the club. Considering how eager the club is to break even – or better – in recent transfer windows, it might take a lot more squad culling to bring Batshuayi in.
How much Pochettino is willing to disrupt his squad's balance will directly affect just how far this talks get. While Tottenham would undoubtedly benefit from a player like Batshuayi, there is still a lot to do between now and the Belgian is wearing lilywhite.