Why This Tottenham Saviour Deserves Every Penny Of The Rumoured £70,000-a-Week Bumper Contract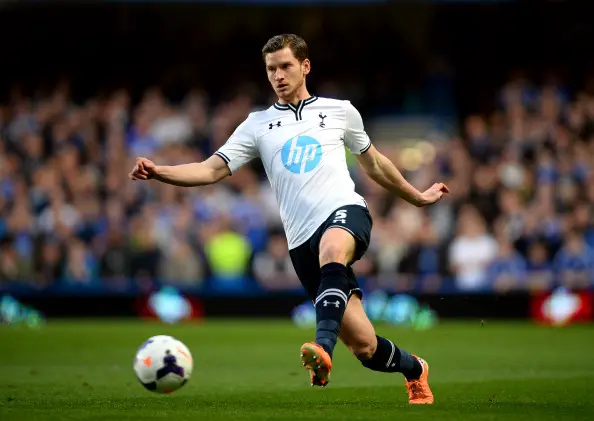 Jan Vertonghen's injury could prove a huge downer for Tottenham as they search for their first league title since 1960-61. Spurs lie second in the table just two points behind Leicester City and with the way they have performed in the league; they could well end up winning the league if things go their way.
Vertonghen though will be out for some time and the need for Tottenham to ensure that he is not tempted away from the team has to be looked into seriously. Vertonghen is contracted till 2018 but he does deserve a bumper contract from Spurs just to ensure that he stays at the club, which Spurs are prepared to do as per reports from football insider, cited by Daily Express, who claim that a a new four-and-a-half-year deal worth 70,000-a-week is well on its way.
Vertonghen has been one of the best defenders in the league this season and with his partnership alongside the Belgian Toby Alderweireld, the pair have conceded the fewest goals this season in the league.
The loss of Vertonghen was for all to see in the FA Cup loss against Crystal Palace, though Alderweireld was also given a break in the game by being rested, Tottenham were shambles at the back without the leadership of Vertonghen.
The Belgian is 28-years-old and for a central defender this would be the best years as he would grow and better. Such as John Terry or Jamie Carragher, with experience they will get better and that can only mean good news for Tottenham.
Vertonghen could be targeted by some of the top clubs in the league or even in Europe. We have seen how Barcelona and Real Madrid have gotten hold of some of the best players from the Premier League with some filthy money thrown into the mix.
Thomas Vermaelen is one such example, even though he was injured for a long time during his Arsenal career, Barcelona did buy him to provide some cover and well with Vertonghen doing so well for Spurs, he would be a target for the big clubs.
A big contract would not only show that Tottenham are serious about a defender who has come leaps and bounds this season but also protect them from losing such a prized asset for a cheap sum. Mauricio Pochettino is a shrewd manager and will not let his defender go so easily but he will be wary of losing him if a big team comes in with an offer.
Tottenham have a great chance of winning the Europa League and the Premier League but if they had Vertonghen in their side, it would have been an even better chance. Jan has become one of the best players in the Premier League and irrespective of how they do in the league till the end; he should be given a contract for doing so well in the past two seasons for Spurs.