Three Key Battles That Will Decide Tottenham's Fate vs Swansea – Stifle Sigurdsson
The Premier League returns for Tottenham on Sunday with a deceptively tricky matchup against Swansea.
Though the Welsh side find themselves only three points above the relegation zone, they have only lost once in their last five matches in the league. It's far too early to make predictions, but it seems as if the Swans should be able to claw their way back to safety before the season is out.
What does that mean for Tottenham, though? It means that they are hosting a side who very much needs a result, almost more than Tottenham do. Late season matches against relegation candidates tend to be slightly more unpredictable than the average Premier League match, and this one is no different.
Mauricio Pochettino will have a gameplan though. Here are three key areas of the pitch you can expect Tottenham to concentrate on.
Stifle Sigurdsson
Spurs' erstwhile creative midfielder Gylfi Sigurdsson might not have thrived in north London, but he's absolutely blossomed back at Swansea. The Icelander is a clever playmaker, and he is arguably one of the league's best dead ball specialists.
On Sunday, Tottenham would do well to stick close to him. Eric Dier has proven effective at marking out opposing creative types, and he should do so again here.
Doing so shouldn't distract Tottenham from Swansea's other dynamo – Andre Ayew. He plays in a wider position than Sigurdsson, but his talent for goal makes him especially dangerous. Whomever partners with Dier in midfield will be keeping one eye on the Ghanian.
Get the Ball to Lamela or Alli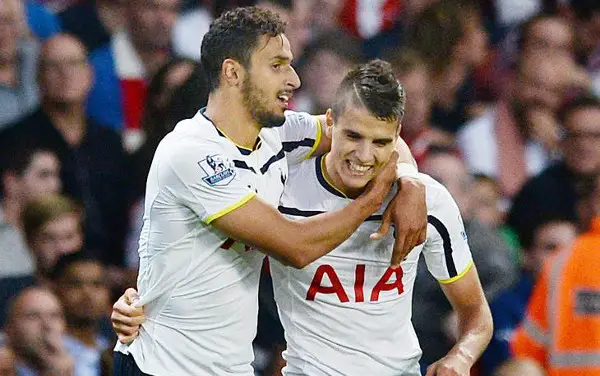 Though Harry Kane is expected to start after missing his first matchday squad of the season with a broken nose on Thursday, but he won't necessarily be the focal point of Tottenham's efforts in attack. Dele Alli and Erik Lamela were spectacular against Fiorentina and deserve to start again here.
The two players aren't precisely alike, but they do share one key quality: they know how to harass defenders. Both players are all in on Pochettino's pressing system, and the benefits are evident. They regularly reclaim possession in deadly areas and are savvy enough to know what to do with the ball thereafter. Lamela might still struggle with finishing – his great goal on Thursday aside – but this is a combo that perfectly complements Christian Eriksen's creativity and Kane's battering ram.
Find a Way Without Dembele
With Tottenham's midfield pressing machine Mousa Dembele sitting out of this match with a strained groin, Pochettino will need to find another player who can replicate his contribution.
This is no easy task. What the Belgian does in midfield is perhaps the most crucial component of Spurs' defence and offense. The options on the roster of players who can do the same are pretty thin.
Ryan Mason's fine game against Fiorentina seem to make him a likely candidate to start, but the Englishman's defensive game is insufficient against a team like Swansea who will field Sigurdsson and Ayew among others.
Tom Carroll might also feature, though Pochettino might again worry about the lack of defensive discipline.
As hard as it would be to implement, the best solution might be to pull Alli back from attacking midfield. The 19-year-old began his career as a box-to-box central midfielder and he's featured there for Tottenham several times this season. While he's not exactly Dembele's equal, he's the closest that Tottenham have got.