Why Tottenham Stars Are Set To Play An Important Role For England This Summer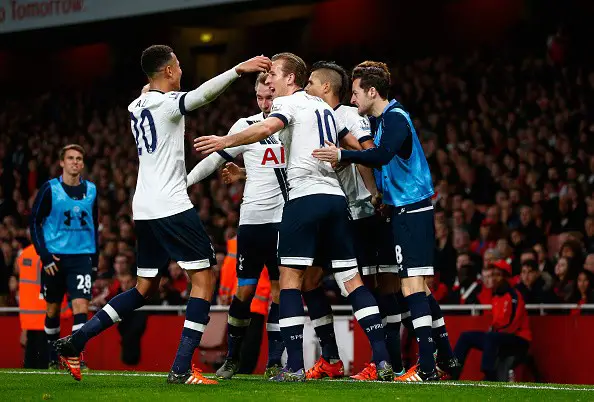 The Premier League trophy may have evaded Tottenham's grasp despite a superb effort to catch Leicester City at the summit, but the opportunity to achieve success may carry on into the summer for five players who will represent England at the upcoming European Championship. West Ham may lay claim to being behind the Three Lions' greatest achievement in 1966 when Bobby Moore, Martin Peters and Geoff Hurst were the main architects of defeating West Germany, but the likes of Harry Kane and Dele Alli may hold the key for the Three Lions to have any chance of ending fifty years of hurt in France.
Euro 2016 may be the last thing that Mauricio Pochettino needs after a gruelling season which saw Spurs battle on no less than four fronts, although any manager would want their players to go away and recharge the batteries ready for what 2016/2017 has to offer. Unfortunately for Pochettino, very few of his first-team players will be able to rest this summer with several players likely to feature for England and Belgium, while Erik Lamela could find himself at the Copa America or Olympic Games with Argentina. The manager will join fans in hoping that none of Spurs' international stars report back for duty ready for another crack at league glory with a serious injury, although this summer's tournaments may provide an opportunity for the club to go on a scouting missing to pick out potential transfer targets. The rumour mill will inevitably throw out a whole selection of names that will arrive through the doors at White Hart Lane, but if Tottenham are able to get ahead of the queue for some of the best players available across Europe (Alexandre Lacazette perhaps?), then the team could make a habit of finishing above their London rivals for many years to come.
Picking players who are in top form for their respective clubs may provide the recipe for success, and if that rings true, then Hodgson should look no further than the five lads who have enjoyed superb seasons at Tottenham. Kyle Walker and Danny Rose have put themselves in contention to start the opening Group B game against Russia, and while many fans and pundits continue to wax lyricals about Kane and Alli, Eric Dier has more than proven himself as a top Premier League and England player.  It would come as no surprise if all five were integral this summer for England; returning home with a winners medal around their necks may make up for the disappointment of missing out on the Premier League title, but those players, along with the entire squad, should hold their heads up high regardless of what happens at Euro 2016 after what they achieved at Tottenham this season.
It may seem like stating the obvious, but the opening fixture against Russia is crucial to England's chances of success at the European Championship. Getting off to a good start is something that has not always applied to England over the years in major tournaments, and although the response against Germany to bounce back from two goals down was superb, we are yet to really find out whether this time is capable of coming back from disappointment. Punters can log onto Coral's website to receive tips for England's upcoming match if they feel brave enough to back Hodgson's team to overcome Russia, with three points more than welcome to get the confidence flowing through the team. The Tottenham lads may use the warm-up games against Turkey, Australia and Portugal to shake off the agony of seeing the Premier League title desert them, but it is difficult to know if Kane or Alli can get any better than they have been this season. Both will indefinitely be in the spotlight in France, and if they take their domestic form onto the international stage, then it will take something special to stop them leading England towards their first ever European Championship trophy.
Spurs fans may be divided in their support for England and Belgium given the number of players that will represent both nations, but remaining loyal to the Three Lions would probably be the right thing to do. Coral rate England's chances of returning home from Euro 2016 victorious higher than they did with ours and Leicester's title chances; it will not matter a jot if Wayne Rooney lifts the trophy at the Stade de France, but it will take a monumental effort for England to overcome the stronger nations who are likely to be there or thereabouts in the latter stages. Tottenham fans could certainly claim that it was their side that ultimately won Euro 2016 if England or Belgium are triumphant, and while it may be tongue-in-cheek, it could be Pochettino's men that stand out as the best players that make the all-important contributions.