Tottenham Looking To Pounce On Real Madrid Star Despite The La Liga Giants Offering Him A New Deal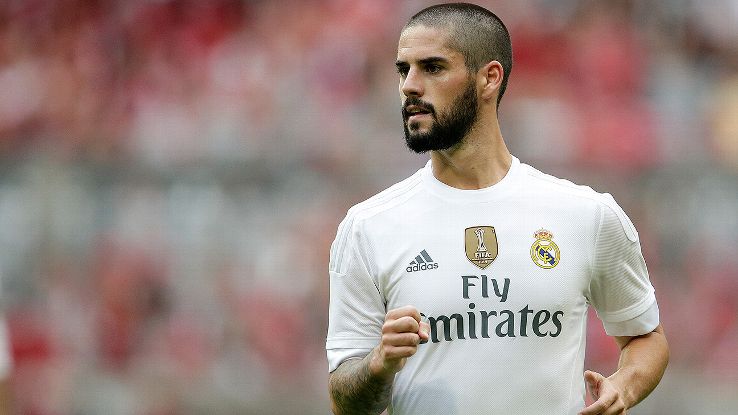 The Mirror reports that Isco has been offered a new contract extension by Real Madrid. The Spanish midfielder was continuously linked with a move to White Hart Lane in summer yet things remained as treading water since he opted to fight for a place. And it makes sense that Mauricio Pochettino is once again looking to secure his top target in the January transfer window (via the same report from Mirror)
The 24-year-old started his career at Valencia yet was brought to the limelight by Malaga, where he bagged 16 goals out of 69 appearances, a modest return considering his talent but he offers more than just finding the back of the net. At the age of 21, he painted a career that every player would dream of, especially of that age group as he moved to Real Madrid. With no signs of nerviness, he lived up to his reputation, racking up 17 goals in his first two campaigns at the Santiago Bernabeu.
Conversely, things have turned a tough for the attacking midfielder since the end of 2014-15 season. His form has been wonky with only 7 goals in the last 60 games for the Spanish giants and is failing to get a foothold in Zinedine Zidane's first team.
In an overall picture, he is just too good to sit on the bench and Spurs boss is looking to take advantage of his uncertain future. Pochettino does have a number of talented midfielders already, in the form of Dele Alli, Christian Eriksen, Heung-min Son and Mousa Dembele, whom all can fit the number 10 role when required.
But a big name signing and most importantly one that could infuse quality right away is always welcomed. Eriksen has not been close to his best and it does worry the 44-year-old. Some time back, Spurs were struggling to get into their offensive rhythm and seem to heavily rely upon Harry Kane to make the difference.
However, the Spanish midfielder will not be a plaster solution to Eriksen's form or a coverage during injuries as he would morph the midfield with his attacking mojo. He is a fantastic all-round midfielder, with plenty of graft that Pochettino commonly seeks in his gameplay and guile to get fans off their seats. In other words, he could be the difference between a Champions League and Europa League spot this season for the Lilywhites.
Real Madrid will be hoping their new offer would fend off interest from Spurs. But Isco won't be rushing to make a decision and will speak to his family about his future. If he does decide to leave, he would face the glare of the cameras once again and chances are more clubs could flock in to seize his signature.
Last time out the north Londoners secured an impressive 4-1 victory against Southampton. The visitors managed to paper up an early defensive slip with four goals. Next up, another tricky away match against Watford.