Tottenham Revive Interest In Signing Leicester City Winger (Not Mahrez) – Report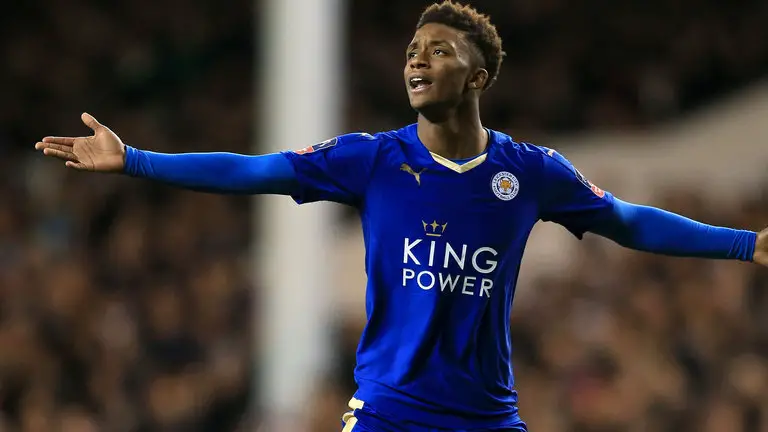 Tottenham Hotspur have revived their interest in Leicester City winger Demarai Gray as Pochettino looks beyond this season – reports the Evening Standard. The 20-year-old attacker has the caught the eye of many scouts and has the firm backing of his current manager Claudio Ranieri.
The Spurs manager is said to be looking to add pace to his frontline with Wilfried Zaha and Riyad Mahrez being the other two options on the shortlist. After the spectacular failure of the £30million signing Moussa Sissoko, the decision by the Argentine manager looks sensible.
Tottenham have been following Gray since his Birmingham days when he was only 17 years old. Gray moved to Leicester, only last January and signed a contract which keeps him at King Power stadium till 2020. It is not only Spurs, as Liverpool are known to be keeping tabs as well.
Gray, who is only 20, might very well fit the bill for the Spurs manager, as he is hoping for a young, determined and talented boy like Demarai. Should Leicester City get relegated to championship come end of the season, it would be really difficult for them to hold on to their talented bunch of players and would face a prospect of starting all over again.
Despite having scored only 2 goals in 46 appearances, Gray is known to add a different dimension to the game whenever he steps on the pitch. Earlier in the season, Ranieri commented about the youngster's contribution to Leicester's link-up play stating:
"I believe in this player and believe he can have a good career. It is important he understands, tactically, that he can't play alone. He has to link with other players."
For a player like him, a move to White Hart Lane might seem like a healthy option when given but it might be better for him to stick to a club like Leicester where he is given confidence and time to grow. Playing for Spurs might be little difficult as the pressure is high with competition for places being more than that of the Foxes.
It would be better for Gray to stay at King Power, even if they get relegated as he will get valuable learning experience under a manager like Claudio Ranieri. However, Pochettino is known to be a youngster-friendly manager as well and a move to White Hart Lane wouldn't be as bad a choice after all.
What do you reckon?