Tottenham's Interest In €10m Rated English Striker Grows – Pochettino Makes Him The No.1 Summer Target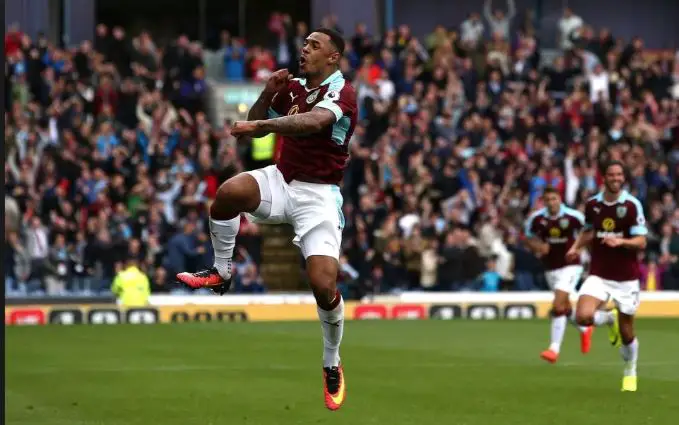 Harry Kane moved to the top of the Premier League goalscoring charts with a brace against Everton on Sunday. The striker was influential in the 3-2 win after scoring the opening two goals. Even though the performance and the result were fantastic, it once again highlighted the over-reliance on Dele Alli and Harry Kane for the goals.
Spurs decided to take pressure off Harry Kane's shoulders by signing Vincent Janssen from AZ Alkmaar in the summer. However, he has been such a major disappointment that he is yet to score from open play this season.
Aware of the incredible pressure upon Kane, it appears that both of them are ready to address the lack of strength in depth in the forward positions by going after €10 Million rated Burnley forward Andre Gray, according to reports from the Sun.
Gray has been one of the players to emerge from the shadows this season and according to the Daily Express, Pochettino has made the English striker his no.1 summer target. The 25-year-old scored in the 3-2 defeat against Swansea on Saturday. It is widely expected that the forward will receive a call up for the England national team sooner rather than later. In fact, manager Gareth Southgate is reportedly considering calling up Gray for the upcoming friendly with Germany and the World Cup qualifier against Lithuania.
Incredibly, Andre Gray has scored only eight league goals this season. While it is nowhere near the tally achieved by the likes of Harry Kane and Romelu Lukaku, it should be remembered that Burnley are one of the lowest scoring teams in the Premier League. The team has managed to score only 30 goals in the 27 league matches so far. Out of these 30 goals, Gray has contributed eight. A major reason for escalating transfer interest surrounding the forward is that he has only 15 months left on his current contract. The 25-year-old becomes an attractive proposition for several prospects – nationality, goal scoring ability, low transfer fees, and lower wages.
The only stumbling block may come in the form of the player's ambition. Gray will know that he will have to settle for a place on the bench at White Hart Lane, as Harry Kane will remain as the number one choice. This may potentially hamper his development at the international level.
Kane has enjoyed an incredible campaign by scoring 19 goals in 22 games. He is certainly on course to retaining the Golden Boot that he won last season. It certainly is difficult to think that Kane could have scored even more goals had he not suffered that major injury in the first half of the campaign. The striker was forced to miss more than five matches as a result of the injury.