'It's Happened Again' – Tottenham Fans Tear Wilshere Apart On Twitter After His Ankle Injury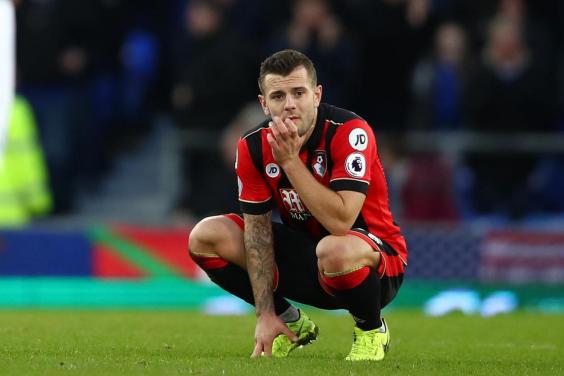 Tottenham Hotspur managed to close the gap on Chelsea to 4 points (well, at least temporarily) in what is growing into an absolutely thrilling English Premier League title race. Spurs are well within their powers to catch up on Chelsea and that could begin from Sunday if the Blues lose to Jose Mourinho's Manchester United. The Lilywhites managed to do their job of keeping the pressure up on Chelsea by thrashing Bournemouth by a 4-0 margin.
Mousa Dembele, Son Heung-min, Harry Kane, and Vincent Janssen were all on target as Spurs eased their way past the Cherries. It was rather encouraging to see both Kane and Janssen score, as Harry just returned from his injury against Watford. Janssen has been struggling all season but somehow managed to get himself a morale boosting goal, as Spurs continue to impress everyone with their performances week in week out.
With the focus of Tottenham completely being on Chelsea, the fans shifted their focus during the game, to a hopeless on-loan Arsenal midfielder. Bournemouth's Jack Wilshere is quite a famous personality in London and is well known for his so-called 'Arsenal DNA' (whatever that means). The midfielder has never shied away from taking a dig at Tottenham and it looked like it backfired on him today.
The Englishman was taken off in the 56th minute due to an injury and Tottenham fans laid into him. They mocked at him during the game, and a lot of fans took Twitter to express their thoughts on Wilshere and we managed to gather a few interesting tweets.
Jack Wilshere is substituted after sustaining injury with chants of "It's happened again, Jack Wilshere it's happened again".#THFC

— Ricky Sacks (@RickSpur) April 15, 2017
Wilshere down & struggling with an ankle injury. 'Jack Wilshere, it's happened again,' sings the whole of White Hart Lane.

— Dan Kilpatrick (@Dan_KP) April 15, 2017
Spurs fans are barbaric, singing at poor Jack Wilshere after his injury. The poor little mite never did anything to provoke anyone. pic.twitter.com/UjJLEUisnQ

— Mac (@Tweetgood_Mac) April 15, 2017
Wilshere feigning injury to get substituted at 3-0 down, he's not fit to lace the boots of Gazza, Dele or anyone else who puts on our shirt.

— The Spurs Web ⚽️ (@thespursweb) April 15, 2017
Wilshere can have a career ending injury, I'd still laugh my ass OFF!!!!!!

What do you think of Wilshere?!!!!! HAHAHAHA @JackWilshere

— Andrew Labib (@Andrew_Labib) April 15, 2017
Bournemouth injury news: Jack Wilshere has sustained ankle injury while trying to get out of Moussa Demebele's pocket#TOTBOU @JackWilshere

— Lord Steven (@steveland82) April 15, 2017
4-0 win whilst cheering wilshere's injury happy days

— Jack (@_ThfcJack) April 15, 2017
Jack wilshere was taken off cuz of an injury
In other unexpected news the sky is up and the oceans are wet

— Mischief (@shayolawal) April 15, 2017
After being shit all game at 3-0 Wilshere feigns injury and skulks off down the tunnel like the fucking weasel that he is.

— John King (@BennyIsWang) April 15, 2017
Still laughing at Wilshere's injury, funny

— ㅤ (@spurscam) April 15, 2017
Everybody slating us fans for cheering for Wilshere's injury can screw off. JACK WILSHERE, IT'S HAPPENED AGAIN, you slimy wanker

— karim (@KarimAlkhoja) April 15, 2017
Jack Wilshere it's happened again #TOTBOU #COYS pic.twitter.com/vzIcdBZdAL

— Harry C (@HazSpur92) April 15, 2017
Envious of Wilshere for his great view of Harry Kane's goal. I'd have stood there doing nothing just like he did. pic.twitter.com/GTWRRqMGYx

— Liquid Spurs (@LiquidSpurs) April 15, 2017
While it is certain that a player like Jack Wilshere, who has always talked a lot about Tottenham in the past, doesn't deserve good treatment from the Spurs fans, it isn't probably a right thing to mock at a player when he goes off injured. It is always sad when a player gets injured as he has to go through a lot of mental struggle to overcome it. Football is football at the end of the day and respect is the ultimate beauty of this game.
It would be better if the fans turn the heat on him at the end of the season when Tottenham finish above Arsenal.