Tottenham Could Pounce To Land First Summer Signing As £35m Target Given Ultimatum To Sign Contract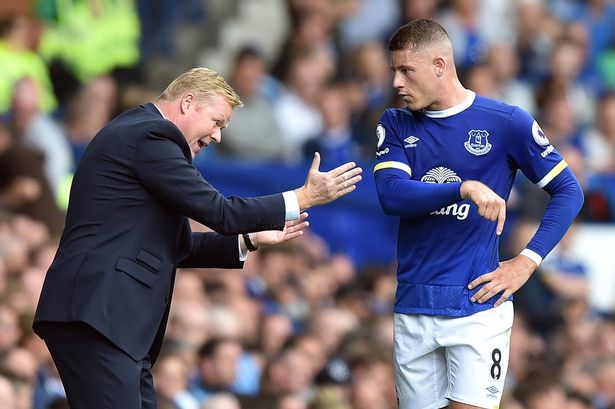 Tottenham target Ross Barkley has been delivered an ultimatum by Ronald Koeman as the Englishman hasn't signed a new contract yet at Goodison.
The 23-year-old has been stalling on a new contract at the Merseyside club as rumours have gained steam for the Englishman from Tottenham Hotspur boss Mauricio Pochettino.
Koeman, speaking at a press conference, stated that the attacking midfielder has one week to decide his future at the club. Telegraph quoted the Dutch manager as saying:
"I had a short meeting with Bill (Kenwright) last Tuesday evening, and we spoke about the situation with Ross," said Koeman.

"I think it's his responsibility and the responsibility also of his agent to say yes or no because that's what the club needs to know because we can't wait until the last moment, it's not good for the player and it's not good for the club. I need to talk more with the chairman and the board of the club and I will do that after the weekend."

"It is up to the player because we won't wait until August. It needs to be next week, because if we go for a holiday we need to know if we need to sell the player.

"I like to work with players who like to stay. It is up to the player – he needs to make a decision."
The English midfielder hasn't had a great season for the Toffees and Koeman has had a pop at him during various stages of the campaign. It isn't a surprise that Barkley wants a move away from Everton as he is looking to play for a club that can challenge for trophies.
Tottenham is a club that is on the rise and they do need players who can perform regularly for the side. The 23-year-old wouldn't come on the cheap either but the London club could swap Moussa Sissoko for Barkley as this was a deal touted in the winter window.
Koeman isn't someone who will bluff about a player's future and if Barkley does not sign a new contract, he would be out of the club in the summer. The 23-year-old would fetch a decent amount (£35million according to Evening Standard) in the market even after a rather inconsistent season.
Pochettino does have work ahead of him in the transfer window but Barkley wouldn't be the worst signing he might make next season.