'All though it's bollocks this is what we need' – Tottenham Fans React As Spurs Are Rumoured To Be Interested In Signing Juventus Veteran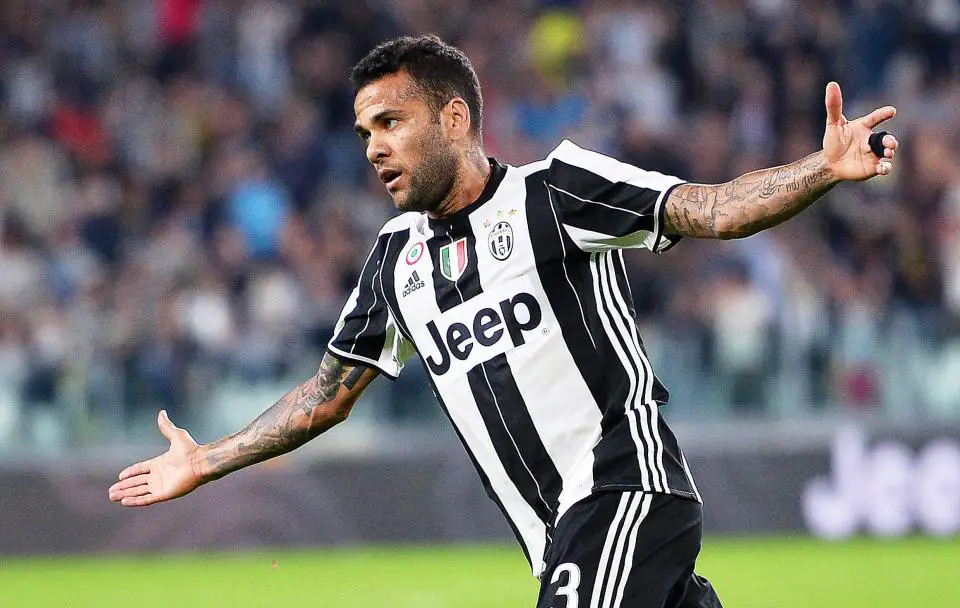 The speculation surrounding Kyle Walker's future is remarkable considering that the media have reported very less news other than Kyle's situation in the past few weeks. Goes on to show how important a player he is for Tottenham.
It is natural for the media to keep the balance alive and so an outgoing player's news has to be complemented with incoming transfer news.
And so without failing their duty, Yahoo Sport' Duncan Castle has reported that Tottenham have approached Juventus right-back Dani Alves (yes, you read that right). It was reported that Pochettino is keen on bringing the Brazilian to the team amidst rumours about Kyle Walker leaving the club.
Whether or not if the news is true is debatable, but the Tottenham faithful rightfully expressed their views on Twitter and it was quite a scene.
Spurs fans are notoriously active on Twitter and time and again react to all the news circulating about the club, which is a good sign to see.
We managed to gather a few tweets and put them together for you to read.
@YahooSportUK @GaffneyVLC @DuncanCastles @GaffneyVLC out of 10, chances of this happening? I say a solid 0

— Spurs Shout (@SpursShout) May 17, 2017
@YahooSportUK @DuncanCastles Duncan who? Oh wait….he is a friend to @LFCStanleyHouse

— AP #YNWA (@AP_265) May 17, 2017
@chrisbuchananan @IamKingWise @DuncanCastles I don't know about that mate,, when is the world going to end???

— Eden Aveen (@EdenAveen) May 17, 2017
Yahoo understand Tottenham Hotspur have opened negotiations with Dani Alves over a potential move to the club. #THFC pic.twitter.com/iiGEiozkwe

— Hotspur Related (@HotspurRelated) May 17, 2017
@HotspurRelated  pic.twitter.com/Oz7vzSOxaK

— Echo Of Glory (@THFCechoofglory) May 17, 2017
@HotspurRelated If true exactly the kind of player we should be targeting, a player that has won a huge amount of trophies and years of experience in Europe

— Ricky Sacks (@RickSpur) May 17, 2017
@RickSpur @HotspurRelated Disagree. 34 year old right back??? Brilliant player but have we learned nothing from Poch-era? Youth, hunger, passion is what we need.

— (((Aaron ))) (@aaronwolfe) May 17, 2017
@aaronwolfe @RickSpur @HotspurRelated I can understand interest though. 34 but can still run all day. At point where a young team needs to believe "yes we can".

— Vass Koni (@vkon1) May 17, 2017
@HotspurRelated  pic.twitter.com/2is8yrwJP6

— Richard Smith (@richmooksmith) May 17, 2017
@HotspurRelated More chance Dani De Vito signing

— Eoin Carroll (@Eoiny_Carroll) May 17, 2017
@HotspurRelated Yahoo?

— Robert Potter (@spurs_rob) May 17, 2017
@HotspurRelated All though it's bollocks this is what we need. An ageing world class player who's a winner!

— Chris Bradshaw (@ChrisBradshaw22) May 17, 2017
@HotspurRelated He's an amazing player but he is also 34 years old. Not so sure about that.

— Panos Z. (@PanosG31) May 17, 2017
@HotspurRelated  pic.twitter.com/QR8hSrOvDe

— Spurs Shout (@SpursShout) May 17, 2017
@HotspurRelated  pic.twitter.com/vp28MJGqyq

— khaled (@kdcowled) May 17, 2017
@RickSpur @HotspurRelated Agreed but why would he want to leave Juventus? And could we afford his wages? You know that our wage structure is like

— Daniel Barker (@danielbarker7) May 17, 2017