Tottenham Set To Trigger £2.6m Release Clause For Barcelona Prodigy Dubbed As The "Next Iniesta"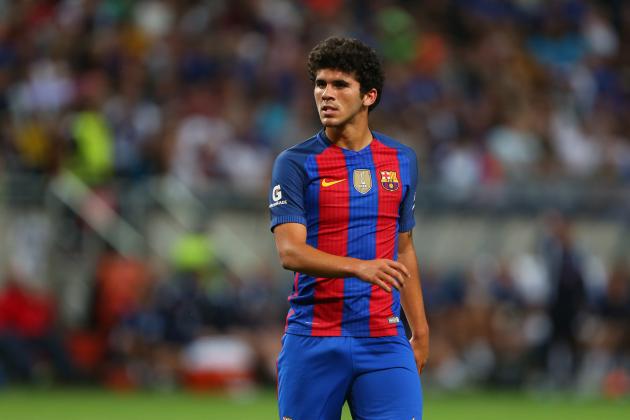 Tottenham Hotspur are leading the race to sign Barcelona midfielder Carles Alena, with fellow Premier League clubs Everton and Newcastle United also in the hunt, The Mirror claims.
The 19-year old midfielder has been touted as one of the brightest young talents to have come through Barcelona's famed La Masia academy in recent years. However, Alena is reportedly refusing to sign a new contract with the club, with his current deal expiring in a little over twelve months.
The report claims that Alena has a €3 million (£2.6 million) release clause in his contract and Tottenham are set to trigger it before the end of this month as the clause will shoot up to £10.5 million starting July 1.
Alena was handed his senior team debut by former manager Luis Enrique last season in a 4-1 win over Granada in April this year and went on to make four appearances across all competitions, in which he managed to find the back of the net on one occasion. The 19-year old has represented the Spain national team at the U-16 and the U-17 levels and is currently the captain of the Spain U-19 side, for whom he has played eight times, scoring twice.
If Tottenham does manage to get their hands on the Spanish prodigy, it will be the club's first signing of the summer. However, where exactly Pochettino will fit Alena in remains a question. The midfield spots are pretty much sealed with Victor Wanyama and Mousa Dembele in the ranks. And with Eric Dier available to fill in and the breakthrough of Harry Winks last season, it leaves very little space for the young Spaniard in the scheme of things with regards to the first team.
Dubbed as the next "Andres Iniesta", he could also be used in an advanced role as a backup to the attacking duo of Dele Alli and Christian Eriksen though, to put his playmaking abilities to use.
Our Verdict
Alena's skills and talents are clearly special and he may well turn out to be a signing with the future in view. Our manager has shown great eye in spotting young talents and having worked with Espanyol in the past, expect him to know a thing or two about Barcelona's talents. And at just £2.6million, the 19-year old could turn out to be a great piece of investment for the years to come.
The inactivity in the transfer window so far is a little unnerving, with the likes of Everton, Manchester City and Manchester United already confirming several key signings this early into the summer. But signing Alena could kickstart what will be an important summer for the club.