'Betrayed', 'Nooooooooo!' – Tottenham Fans React To Kyle Walker's £50m Move To Manchester City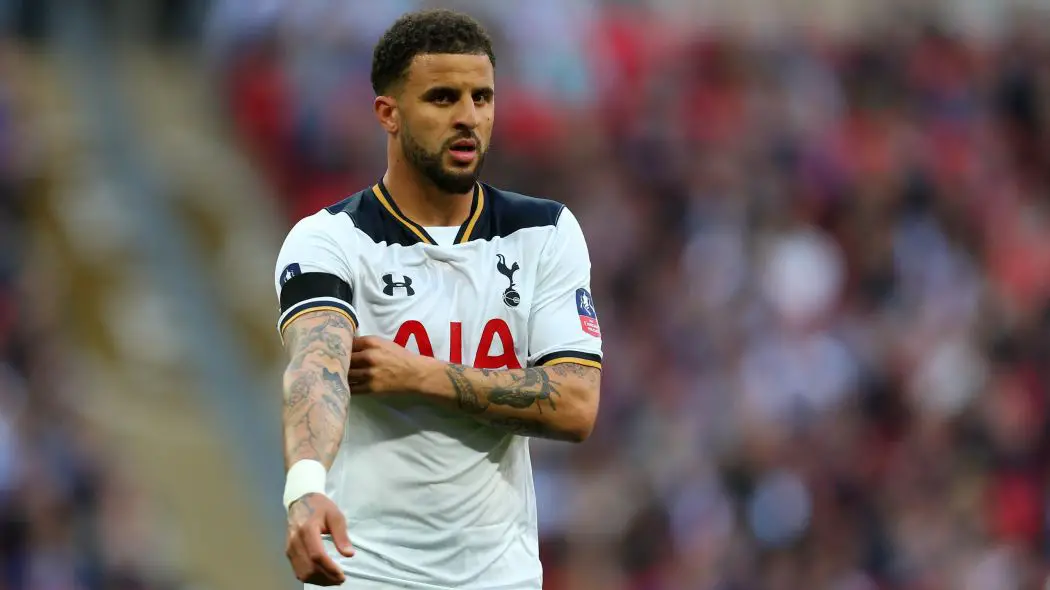 BBC journalist David Ornstein has exclusively claimed that Pep Guardiola's Manchester City are on the verge of landing Kyle Walker for a fee reported to be around £50 million, plus further add-ons, and should the noted expectations are met, the fee could rise up to £53 million, which would make Walker the most expensive defender in the sport, surpassing David Luiz's £50m move to Paris Saint-Germain back in 2014.
Manchester City have long been monitoring Kyle Walker's situation at the club, but the Lilly-Whites were reluctant in negotiating any kind of deal. City shifted their priority to Dani Alves, who terminated his contract with Juventus and became a free agent. But unfortunately for them, he decided to snub Pep Guardiola and joined Paris Saint-Germain 'to win more trophies'.
Man City close sealing Kyle Walker signing. Deal worth up to £50m agreed last night. Medical & completion Fri, goes on tour Mon #MCFC #THFC

— David Ornstein (@bbcsport_david) 13 July 2017
Hence, the Citizens were forced to shift their heads back to Kyle Walker, who made 33 Premier League appearances last season. As per the reports from Daily Telegraph, Walker had previously informed manager Mauricio Pochettino that he tends to leave the club for Manchester City. Chairman Daniel Levy, on his part, was well aware of City's interest for a long time, hence, was holding on to his £50m valuation of the 27-year-old.
Manchester City have already broke one record by signing goalkeeper Ederson Moraes for a world record fee (for a goalkeeper) and it seems now they are on the verge of doing it for the second time running.
We already have Kieran Trippier to fill the void, but with the Champions League football also knocking our doors, a sustainable depth will be Pochettino's primary concern. And if the reports are to be believed, a £22m move for Porto's Ricardo Pereira is being tracked down (Evening Standard).
Having said that, this is how the fans are reacting to the news:
50m for Walker? pic.twitter.com/0x9zV1PEMi

— Dean Van Nguyen (@deanvannguyen) 13 July 2017
Well as they are beginning to have all their best players cherry picked by bigger clubs, he's *kinda* in the right zone still..

— Tayo3000 (@DJTayo) 13 July 2017
£50M for a 26 year old WC RB when we can get Pereira in for £22M who's like 21 and will be beyond Walker's level soon

— (@JackH_THFC) 13 July 2017
If Kyle Walker is worth £50 million then Hector Bellerin is worth enough to pay off Greece national debt.

— London's Red Bitches (@afcbesttweets) 13 July 2017
If City sign Walker and Mendy they will have spent £267.6m on defenders and goalkeepers in the last 3 seasons. pic.twitter.com/tEGzLR4mQJ

— Footy Accumulators (@FootyAccums) 13 July 2017
Sold Carrick. Survived.
Sold Modric. Survived.
Sold Berbatov. Survived.
Sold Bale. Survived.
Walker isn't the Messiah.
Spurs continue. #TTID

— YiddenAgenda (@YiddenAgenda) 13 July 2017
There are quite clearly two markets this summer. One for English teams and one for the rest of Europe. Kyle Walker (£50m) vs Bonucci (£35m).

— Liam Canning (@LiamPaulCanning) 13 July 2017
Kyle Walker 50 million,
Leonardo Bonucci 35 million. pic.twitter.com/Wpv9fy6g65

— Ahmad Kalim (@AKalim27) 13 July 2017
100m on stones and walker

— Michael (@Cheggers) 13 July 2017
betrayed

— larz (@Koxielny) July 13, 2017
Man City have spent the GDP of England in 1635 on Kyle Walker

— Duncan Alexander (@oilysailor) July 13, 2017
Nooooooooo! Kyle Walker, why would you wanna leave the best Spurs team ever to join that bunch of renegades? You cray cray homes!

— Paulie G (@paulie_g) July 13, 2017
No disrespect to Kyle Walker but Sigurddson looks a bargain now at £50 million in this obscene transfer market .

— highfivedave (@highfivedave) July 13, 2017
Some fans may not like it, but 50m for Walker is great business by Levy. Sad to see him go but he's replaceable. It's Trippier time #COYS

— Sam Pudney (@pudney94) July 13, 2017