'I just can't work our club out' – Tottenham Fans Frustrated As London Rivals Complete £16m Deal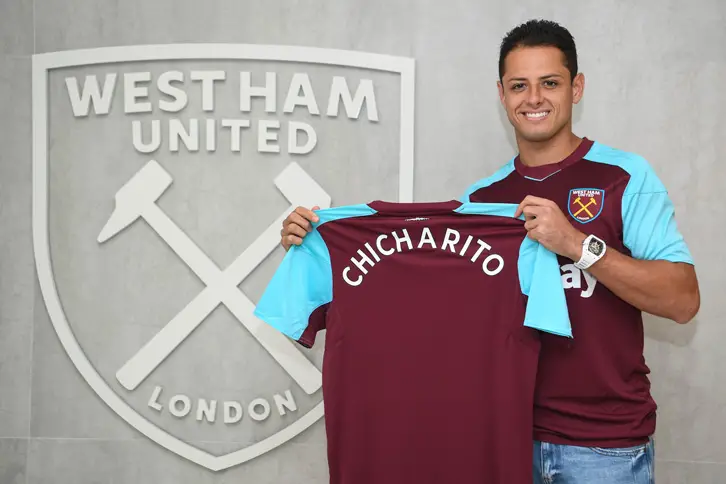 West Ham United completed the signing of former Manchester United striker Javier Hernandez for a fee of just £16million, which is a bit of a steal. The 29-year-old moved from Bayer Leverkusen to London and his goals to games ratio is certainly right up there.
The Mexican scored 39 goals in 76 games for the Bundesliga side and seems to be in the prime of his life, despite being sold by Manchester United a couple of years ago.
West Ham certainly have snapped one of the bargains of the season and if not anything, Hernandez will provide a decent return up front.
Hernandez might not be the first-team striker at big clubs anymore but he could have provided great cover to any top side in the Premier League and certainly would have done a decent job for us.
Vincent Janssen struggled to score goals last season and we need cover for Harry Kane. We were lucky to escape this, given the quality of Harry. However, Pochettino seems ready to give another chance for Janssen and stick with him rather than sell him.
Some Tottenham fans weren't exactly pleased that we couldn't seal the deal for the 29-year-old Hernandez while others were happy we missed out on the striker.
Here is a selection of the best reactions on Twitter. Read on!
West Ham have signed well & Hernandez is a terrific player… However, those thinking it's enough to finish above Spurs need help! #COYS pic.twitter.com/fWXlZjSuLH

— Ben Harris (@thisisbenharris) July 25, 2017
No wonder we didn't make a bid for Hernandez..If it's true he is on 140k per week…Fuck me!! #COYS pic.twitter.com/UVfxEnrWH7

— Knoxy (@knox2_jason) July 24, 2017
Good to Hernandez back in the Prem, unfortunately for the wrong team. Wouldn't mind him as a backup striker at Spurs #COYS #SpursInUSA

— Luke Williams (@lukewilliams_10) July 24, 2017
I think Spurs should have attempted to signed Hernandez.

— Max Jacobs (@MaxJacobs2017) July 25, 2017
Hard to believe Hernandez left Leverkusen for shitty Hammers

— Señor Lanre (@LoyalSpurs) July 25, 2017
Brilliant signing for West Ham, Hernandez should be a Spurs player, I just can't work our club out.
16 million is piss steam for that class!

— Big Cuban (@Bigsycuban) July 25, 2017
Hernandez- West Ham's best signing since tevez
Still wouldn't get in the spurs XI #THFC

— Bobby Brown (@bobbyboyee25) July 25, 2017
Surely Spurs should of gone in for Hernandez as back up for Kane?

— Ben 23 (@bsuley) July 25, 2017
If we had wanted Javier Hernandez, we would've stolen him easily. But why are we being so picky with our transfers?

— Spurs At Hart (@SpursAtHart) July 24, 2017
Javier Hernandez at West Ham now earns more than Kane, Alli, Eriksen, Lloris and Alderweireld a week Not good enough from Spurs

— Jess Mcsweeney (@McsweeneyJess) July 24, 2017