Tottenham's Hope To Land Barcelona Midfielder Has Been Further Dented: Player Has €75m Clause Now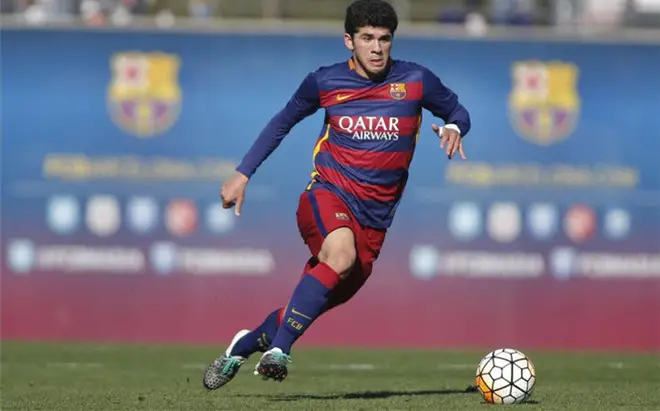 Tottenham have faced a bit of a blow in their race to sign one of Barcelona's most promising players. La Masia star, Carles Alena, has signed a three-year deal with the Catalan giants with an option of increasing it by another two years should he become a regular for the first-team.
We were linked with a move for the 19-year-old playmaker during the summer but the player has committed his future to the Catalans.
Alena actually made his debut for the first-team in a 1-1 draw against Hercules in the Copa Del Rey. He scored the only goal of the game which took place in 2016 and now looks set to make a push to become a mainstay in the side.
The Spaniard also made a handful of appearances in La Liga last time around and played a major role as the reserve side made it to the second division in Spain.
Mauricio Pochettino had made a move to sign the highly rated youngster and even offered him first-team football according to a report by AS.
Barca didn't waste time and ensured that the player stuck to the side by announcing that he had decided to continue his career at the Nou Camp.
A report by IBTimes also added that the youngster has a rather ridiculous release clause of €75million, should he actually make it to the first team of the La Liga side.
"FC Barcelona and midfielder Carles Alena came to an agreement Tuesday whereby the 19-year-old will extend his deal with the club for a further three years," the club stated on its website.

"The deal also calls for a two-year club option should Alena, who currently plays for the reserves, end up making the first team. The buyout clause has been set at €75m"
Just to prove that the youngster is the future for the side, even Josep Bartomeu, the Barcelona president, added that Alena could be the player to do Philippe Coutinho's job.
As quoted by Mundo Deportivo, Bartomeu said:
"It has been identified that the team already have players of that profile and that there are players from the academy ready for it. An example is Carles Alena. It has been considered that the best option is to bet on home-grown players due to the [high] prices to bring players from other clubs."
We don't know if Alena would turn out to be the next Coutinho or not, but he is a great talent that we have missed out on.