'Someone at Nike worked really hard on their copy/paste skills' – Fans Lose The Plot On Twitter As Nike Reveals Kits For Tottenham And Other PL Sides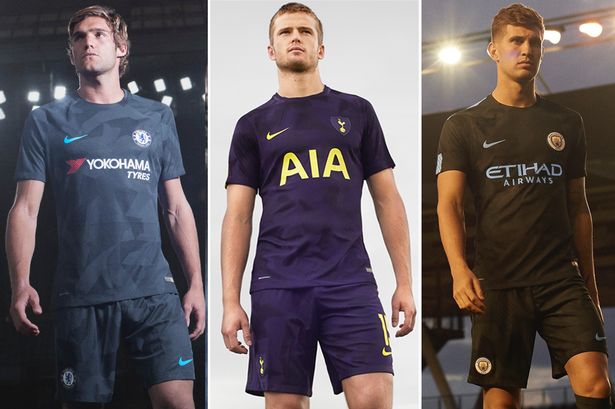 There was a time when a club had only two kits, one home and one away, to worry about. Now, we have the 'third kit', which is used in some of the other competitions, like the cups and European games. It might be a headache to prepare new designs for the third kit but it seems like Nike has taken a novel approach by reducing the confusion and sticking to one colour scheme.
Chelsea, Manchester City and even our beloved Tottenham side all have the same dark coloured third kit with same design and that has not impressed many.
City aren't taking up their garish orange colour scheme from last season but at least that was something different, while Chelsea opted for the dark hue when compared to the white strip they wore during their Premier League winning run.
We are also using a dark trim this time around and this lazy approach, if we can call it that, was lambasted by many on Twitter.
Here are just a few selected tweets which highlight the outrage that the fans have from all the three sides, something which is rare in this troll infested footballing world.
https://twitter.com/Football__Tweet/status/907618280210399233
https://twitter.com/TheSportsman/status/907593045880791040
Was loving the new @SpursOfficial 3rd kit until I realised it was exactly the same as #CFC's! Utter laziness by @nikefootball pic.twitter.com/x3g3ZCkreV

— James Swan (@jamesswan88) September 12, 2017
https://twitter.com/SunBets/status/907520156611555329
The kit designers at Nike, Nike and Nike?

— Gavan Reilly (@gavreilly) September 12, 2017
https://twitter.com/Mourinholic/status/907526117912915968
https://twitter.com/BlueCitizen007/status/907525104405532672
https://twitter.com/FootySuperTips/status/907522305559068672
https://twitter.com/SPURSinGIFs/status/907597391406215168
The designers at Nike have been chilling… pic.twitter.com/XBBvu2XDLi

— Andrew Kabuura. (@andrewkabuura) September 12, 2017
Nike have done a good job copying and pasting third kits pic.twitter.com/NQRN6Zz5QM

— Jake Peachey (@JTPeachey) September 12, 2017
Wow those ideas guys at Nike are really coming up with cutting edge new ideas for their teams! #THFC #MCFC #CFC #AllTheSameKit ⚽️ pic.twitter.com/ObSxa3FHDl

— Paul Smith (@TheePaulSmith) September 12, 2017