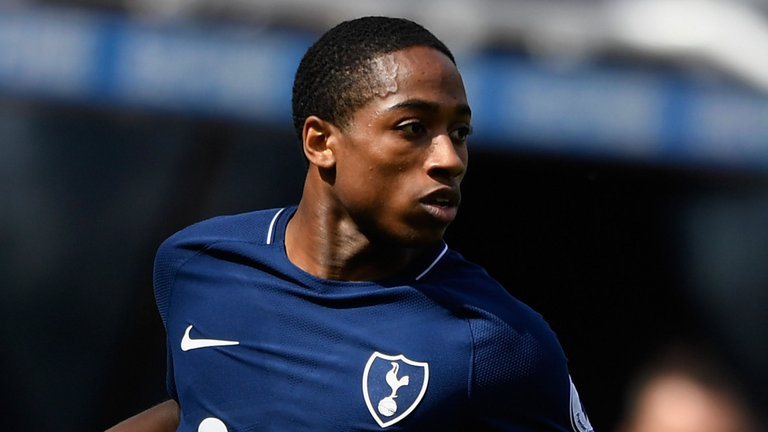 Kyle Walker-Peters was expected to take up the role of his namesake Kyle Walker after the latter was sold to Manchester City in the summer. The young Englishman did a pretty good job when he played against Newcastle but his chances have been limited thanks to the good football played by Kieran Trippier and then the signing of Serge Aurier.
Walker-Peters needs to get regular playing time under his belt to continue his development and The Sun claims that Mauricio Pochettino is ready to let the 20-year-old go out on loan in the winter window. The right-back is wanted by a couple of Premier League clubs, Swansea City and Stoke City, and could leave in the January window as both sides look to keep their Premier League status in check after indifferent starts to the season.
Stoke City do need a right-back or even a right-wingback as they have been playing a striker in that position. Swansea, on the other hand, really need someone not only to help them defend but also to score goals and maybe Walker-Peters is the man for that.
The 20-year-old might have expected a number of games in the Carabao Cup but our loss at the hands of West Ham saw our progress in that competition come to an end.
Aurier and Trippier are actually better than Walker-Peters and it does not really make sense to drop either of them even though the young Englishman is one of the best prospects at Tottenham.
We do have a history of producing great talent and the right-back is another one to have progressed really well under Mauricio Pochettino. However, he has to play regular football and this is why this decision to loan him out does make a lot of sense.
Walker-Peters would be playing for a Premier League club and be picking up a lot of experience but we have to ensure that there is some clause in his contract stating that he must start a certain percentage of games for the side he joins on loan. Otherwise, he would just sit on the bench and learn nothing.