Mauricio Pochettino Ready To Pounce On £70,000-per-week Midfielder From London Rivals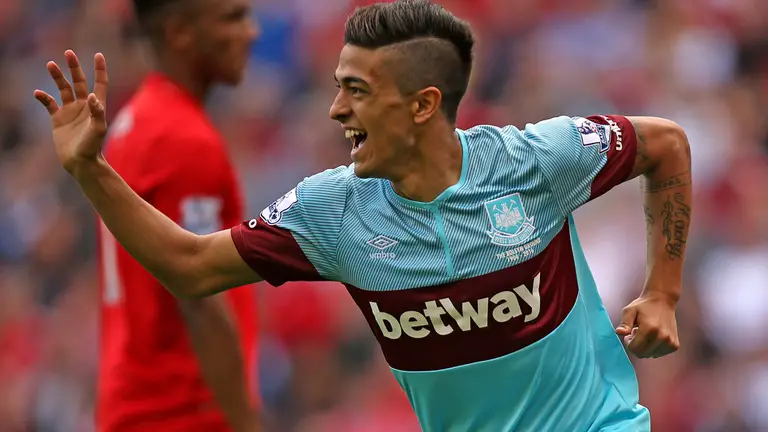 Tottenham manager Mauricio Pochettino is known to be constantly on the look-out for adding new talent. One of the latest names doing rounds in the market is Manuel Lanzini. (Football.london)
The Argentine playmaker is currently plying his trade at West Ham United and is considered as one of Pochettino's long-time target. Lanzini joined the Hammers from the Argentine Club River Plate over a year ago. He initially joined the East London side on loan before finalising his permanent deal worth £70,000-per-week basic pay and a rumoured £85,000-a-week final salary.
I have always been a fan of Lanzini, having seen him notch consistently impressive performances for West Ham. In fact, the club officials had high hopes for him from day one, which was one of the reasons they did not fret over the departure of Dimitri Payet to Marseille.
Payet was considered a vital player for West Ham but once his mind was set on joining the French Ligue 1 side, the writing was on the transfer wall. However, Lanzini grew into that role and soon made the playmaking position his own.
The 24-year-old is widely considered as the biggest creative talent within this West Ham team that is struggling to hold its own. Mired in the relegation battle and with new manager David Moyes at the helm, West Ham are in deep problems but hope that Lanzini would steer them clear of it.
The Lilywhites, though, are interested in his services and according to reports from ESPN, Pochettino is confident of snaring his fellow countryman as he seeks to add more creative talent to his side.
How receptive will West Ham be for this transfer? I think it would be foolish for any side, let alone one that is fighting the relegation battle, to let go of a talented player like Lanzini.
Moyes has already made it clear that he wants the playmaker at the club to help his side stay up in the Premier League. However, if he can get a heavy price for the player, Moyes may be tempted to cash in and use the money to strengthen elsewhere.
But still, I doubt if Lanzini would make the move soon; not before next summer.
What's your opinion?