(Video) Here is a 360 birds eye view of the newly constructed stadium to get Spurs fans excited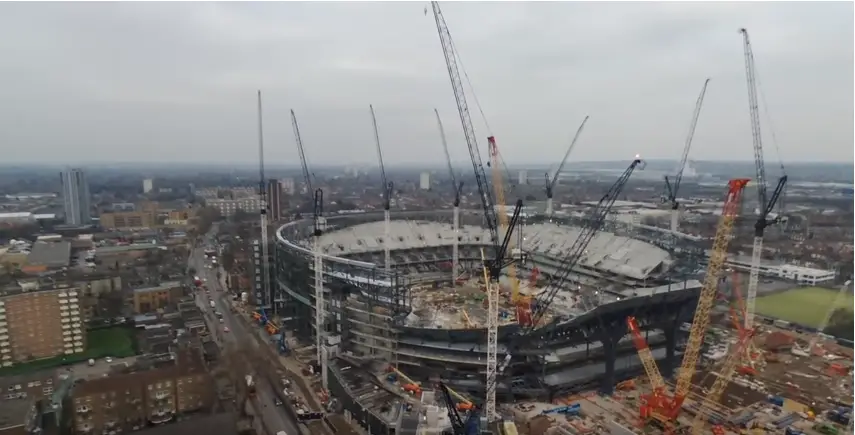 Tottenham Hotspur have been sharing regular updates about the progress of our new stadium and they are back, once again, with more information about what is currently going on. Last week, we saw some encouraging news regarding the progress made on the new stadium. There is a sheer amount of development made over the past seven days.
The updates were mainly based on the stadium's south stand, with the framework getting bigger and better. The builders were working around the stadium, at the back of Percy House and to the right of Lilywhite House. Progress continues to be made on the underground car park and hotel footings too.
Also, last week we witnessed both the east and the west sides get covered with the panels. That basically means almost half of the stadium is now covered. This time, Tottenham blog have shared a drone footage of the new stadium, showing a 360-degree bird's eye view of the £850million arena.
Last week, Spurs chairman Daniel Levy revealed that he was confident of Tottenham playing in their new stadium next season amidst worries that the venue won't be ready for October's NFL fixture between the Oakland Raiders and the Seattle Seahawks.
He was speaking at an event, where it was announced that only one NFL game will take place in the new stadium in 2018. Mr.Levy also reassured our supporters that the club will move into their new stadium on time and with all their star players in the team.
"Unless there are unforeseen circumstances, I am very confident, and I wouldn't be sitting here today otherwise, saying that the season we are about to enter in August, we will be playing our games here from the start of next season," he said.

"As far as the football side of this, as far as our fans are concerned they can relax. The NFL will have nothing to do with the soccer side," Levy added.
The stadium is expected to be available for the start of the 2018/19 season, as planned earlier. Take a look at the video below and share your opinions on the progress of the new stadium.