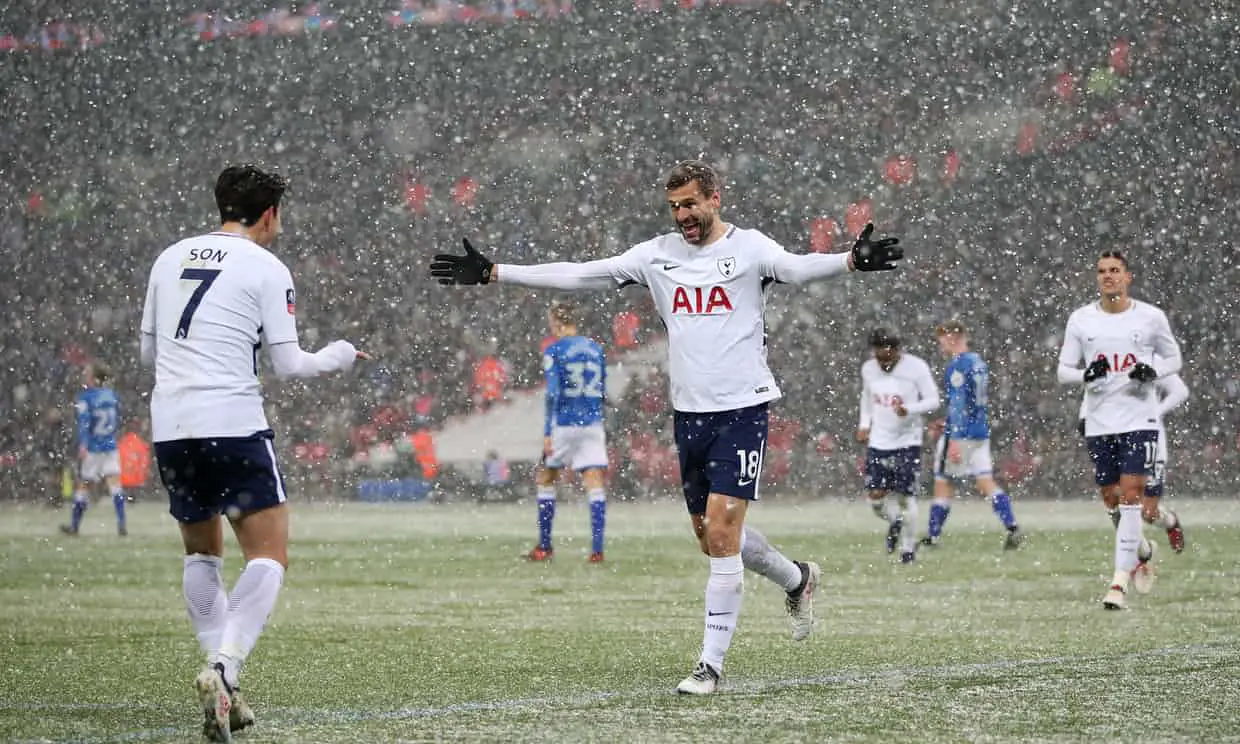 It was a crazy-crazy game at Wembley as Tottenham hosted Rochdale in the FA Cup 5th round replay, with Fernando Llorente and VAR becoming the stars, one intentionally and the other not so much.
The Spaniard has had a tough time since switching his allegiance from Swansea but he scored a hat-trick to take Spurs into the next round as we now will take on Llorente's former club.
There were cheers early on when Erik Lamela thought he had scored but the referee called it off after a lengthy VAR discussion before Son Heung-min opened the scoring. There were six goals scored by Tottenham but Son's penalty was chalked off as he stuttered in his run-up.
The penalty itself was controversial as we were initially awarded a free-kick before it was converted into a spot-kick, thanks to VAR, again.
Rochdale, though, drew level before the break and there were fears that we could slip up against the lower league side, especially with the snow pouring down.
Fortunately for us, Llorente got into the act and scored a quick-fire hat-trick before Son and Kyle Walker-Peters finished the rout, ensuring we are one of the favourites for the FA Cup.
Llorente was undoubtedly the star of the night and here's how the fans reacted to the Spaniard's hat-trick.
So happy for my first hat-trick with the Spurs! ⚽️⚽️⚽️ We're in the quarter-finals! 💪🏻 #COYS #THFC #FACup pic.twitter.com/6NcR3BzR4Z

— Fernando Llorente (@llorentefer19) February 28, 2018
Fernando Llorente's game by numbers against Rochdale:

33 touches
7 (88%) aerials won
5 shots
3 shots on target
3 goals

One perfect hat-trick. pic.twitter.com/YktkqITHeL

— Squawka Football (@Squawka) February 28, 2018
Fernando Llorente has scored more goals in 2018 than Pierre-Emerick Aubameyang and Alexandre Lacazette combined. Talisman.

— Cartilage Free Capt. (@cartilagefree) February 28, 2018
#thfc attacker Heung-Min Son imitating the VAR sign after Fernando Llorente scored. https://t.co/j3WCsTuhb1

— Hotspur Related (@HotspurRelated) February 28, 2018
Fernando Llorente has scored more hat-tricks (1) than Cristiano Ronaldo, Lionel Messi and Harry Kane (0) in all competitions in 2018.

— Spurs Stat Man (@SpursStatMan) February 28, 2018
3 – Courtesy of his hat-trick v Rochdale, Fernando Llorente has bettered his tally from his previous 26 games with Tottenham in all competitions (2). Blossom. pic.twitter.com/1b95SHWlVz

— OptaJoe (@OptaJoe) February 28, 2018
LLORENTE HAS SCORED A HAT TRICK pic.twitter.com/WsFbltqmhM

— Simply (@Simply_Spurs) February 28, 2018
VAR being useless and Llorente scoring goals. I've never been so confused whilst watching a game of football

— Simply (@Simply_Spurs) February 28, 2018
Weather: ❄️❄️❄️
Llorente: 🔥🔥🔥 pic.twitter.com/ViLo0z3A7Q

— FOX Soccer (@FOXSoccer) February 28, 2018
Great night for us in the end. We looked good from the start but VAR stopped us in the 1st half. No injuries, kane rested, lamela back to his absolute best, lucas looking very good & goals for Sonny and Llorente. And congrats to KWP for his 1st goal. COYS 😍

— Charlie Lloyd Thomas (@CharlieLloydT) February 28, 2018
VAR
Llorente hat trick
Ref spraying foam on the snow
Shovel bloke falling over

What a day to be alive

— Dave Ellis (@fullback03) February 28, 2018
🚨 Fernando Llorente has scored a hat-trick! 🚨 pic.twitter.com/HHDEv6vCgB

— Eurosport UK (@Eurosport_UK) February 28, 2018
Llorente has just scored a hattrick…the end is near

— Kyle (@kylepos) February 28, 2018