Juventus boss Massimiliano Allegri has refused to rule his star striker Gonzalo Higuain out of the return leg of the Champions League round of 16 tie against Tottenham Hotspur this week in the midst of injury fears.
The 30-year-old has been in a race to get fit since coming off after injuring his ankle during the derby win over Torino two weeks ago.
The Italian club had hoped their forward would feature in the games against Atalanta and Lazio, yet Higuain has not recovered from the ankle injury and remains sidelined.
Following their late 1-0 win against Lazio at the Stadio Olimpico last Saturday, courtesy Paulo Dybala, Allegri issued an update about Higuain in his post-match presser.
"Ready for London? Let's see. Somehow we will make Wednesday," Allegri told Ovacion Deportes.com.

"There will be spaces, Monday we'll see for Higuain. We will also evaluate [Mario} Mandzukic.

"There is optimism, we'll play our chances. For Gonzalo and [Mattia] De Sciglio, however, we see Monday.

"They are two players that have stopped for many days, you have to recover the energies with those who played tonight and then see what conditions we will go to London."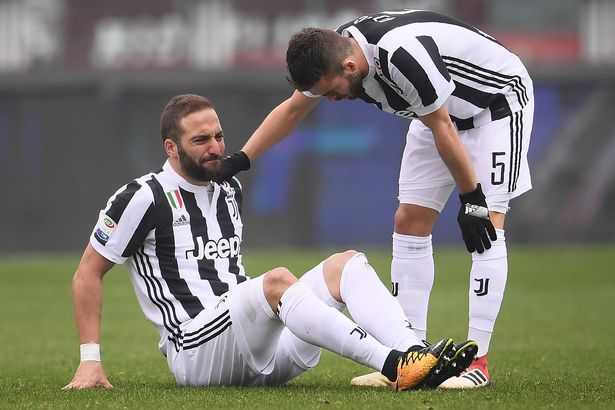 Besides issuing an update on the Argentine, the Juventus boss also took a cheeky dig at Spurs.
"We wanted to come away from Rome with a positive result and that's what we got," he was quoted by Goal.

"They defended themselves very well and we knew that it was going to take something special to beat them.

"Yes, that special moment came from Paulo. He is a great young player and we are all happy that he scored.

"Tottenham are different compared to Lazio, they don't defend as well.

"This win certainly helps our confidence as we will have to be good and lucky on Wednesday."
It will come as a huge relief if Higuain misses the second leg. The former Real Madrid striker netted both goals in the first leg but may now miss the return leg at Wembley.
Meanwhile, Dybala's goal in the injury-time gave Juventus an important victory over Lazio. The diminutive attacker's return to full fitness is worrying signs for Pochettino and he would have to devise a certain plan to keep the nippy Argentine at bay.
The stage is set for Spurs to come up with another eye-catching performance against one of the big boys of Europe and qualify for the quarter-finals of the Champions League.