Tottenham and Chelsea fans clash after Spurs' 3-1 win – Police intervene to calm things down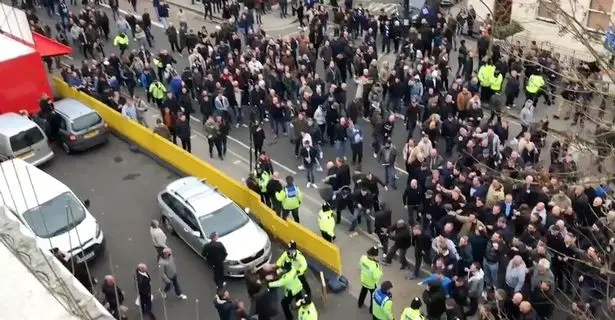 According to the Daily Mirror, Chelsea and Tottenham Hotspur fans clashed after Spurs won 3-1 on Sunday.
Dele Alli's double gave Spurs their first Stamford Bridge win over Chelsea after 28 long years and left the Blues' Champions League qualification bid in scraps.
Alli's brace and Christian Eriksen's incredible long-range strike handed Spurs the 3-1 win and also extended the club's advantage over the London rivals to 8 points with just seven matches left to play.
After the game, Tottenham and Chelsea fans clashed, which resulted in violent scenes. The Daily Mirror claims that police provided a barrier between both sets of fans, with the travelling Spurs fans outnumbering the Blues support.
Projectiles, including traffic cones and bottles, were thrown from either side as police officers tried to calm things down, reports the Daily Mirror. However, after some time, the police officers established control over the situation.
Additional police support was called upon as Tottenham fans began to sing in the direction of Chelsea fans in a bid to mock them, the Daily Mirror adds.
The win at Stamford Bridge after 28 years left the Spurs fans in high spirits. It was their day to celebrate after a very long period of time but the fights that took place in the streets could have simply been avoided.
The result on Sunday means that we have taken another big step in securing a place in the top-four this campaign.