Opponent Watch: Chelsea team news ahead of Carabao Cup clash
Tuchel gives latest Chelsea team news ahead of Carabao Cup semi-finals vs Tottenham Hotspur
Thomas Tuchel has given the latest injury and Covid news on Chelsea ahead of the second leg against Tottenham Hotspur in the Carabao Cup semi-finals. His team is comfortably leading the tie with two goals in the bag, and they will be keen to see the clash out with minimal fuss.
Thiago Silva and N'Golo Kante were ruled out for the first leg, having tested positive for Covid. Ben Chilwell and Reece James are long term absentees, whereas the Blues boss also confirmed that Trevoh Chalobah is still sidelined after suffering a hamstring strain.
Speaking in the pre-match press conference (h/t Football.London), Tuchel expressed that Silva and Kante are still doubts for the game and could end up missing the match. He added that even if the duo makes it into the training sessions, the chances of their involvement is remote.
"Right now I would say we have the same guys as we had in the cup game. No news and no new injuries which is good news for us and we have to wait for last minute decision on Thiago and N'Golo. I have to wait if they are in training and then let's see how they respond. If we do it, it's a gamble and I'm not sure if we do it, how much responsibility we can take there. At the moment I'm not even sure if they come to training."
Focus on ourselves!
The five potential absentees are major players for the West London club, so we would gladly accept any boost that we receive in our favour. Given the way, we played in the first leg, we need all the help we can get.
We have hit a slump recently, and the team need to overcome it by putting on a great performance tomorrow. It would be challenging for sure, but it is never impossible, as football has shown us time and time again that comebacks are a part of the game.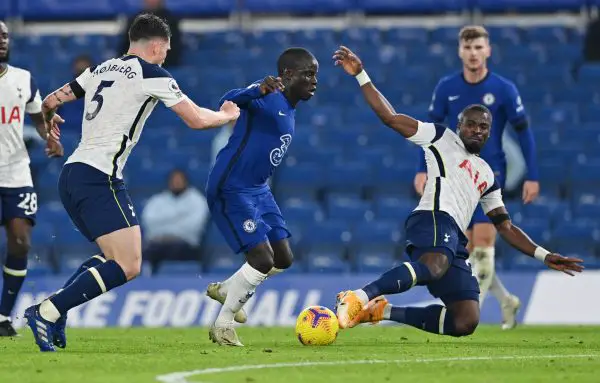 The opponents had similar absentees in the last game, and they still enjoyed a relatively comfortable game overall. We have to learn from our mistakes and raise our level to the occasion as our chances of qualifying to the final is hanging by a thread.
More Tottenham Hotspur
Our inability to take the initiative and gain control in the first leg was highlighted several times in the past few games. The team always take some time to get into the groove, which could prove costly at the top level. We cannot afford to repeat it this time around. Hopefully, Conte's men can display some of the newfound belief we have in the squad.